Investment Thesis
The second quarter of 2017 confirmed our thesis on Boardwalk REIT (OTCPK:BOWFF): Stay away until Boardwalk shows some level of growth in NOI off a trough and cuts its dividend.
We wrote about Boardwalk REIT recently and suggested that the market and management were extremely optimistic on its prospects. Q2-2017 results were released on August 11 and came in significantly below the street's expectations. The stock lost 11.3% on the day, and we see many downgrades coming. Should you buy the dip on this "blue-chip?"
Reasons to stay away
1) Management is losing the plot.
Q2-2017 report consisted of management repeatedly calling the trough for the apartment market, while taking another axe to guidance.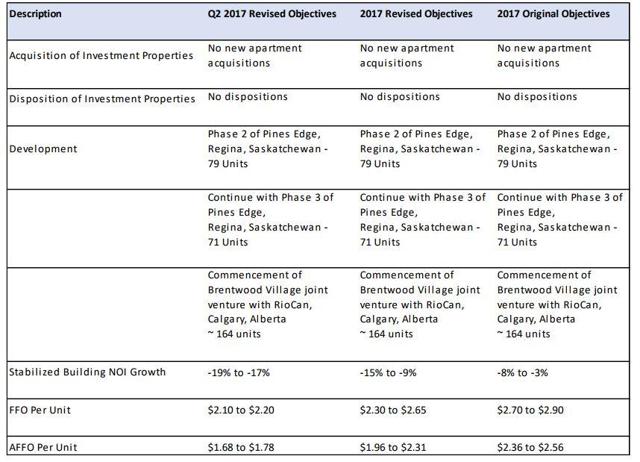 Source: Boardwalk Q2-2017 press release
The key number for us for the NOI growth, which was revised to -19% to -17%. This is particularly shocking when occupancy in its entire portfolio is at 95.6% currently and expected to rise.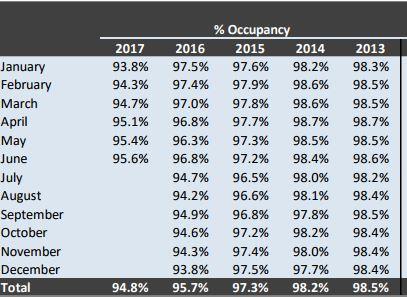 2) Apartment maintenance is more expensive than it looks.
So if occupancy is doing good, where is the problem?

The big bump in maintenance capital for one. We appreciate that Boardwalk is keeping the suites in great shape, but a 20% bump up in the budget in a few months shows bad planning. Value-added capital, which is not even counted in the AFFO, has almost doubled from the original guidance.
3) No dearth of supply = no ability to raise rents.
Multifamily housing starts are still high in Boardwalk's largest markets and have picked up pace again after a slow 2016.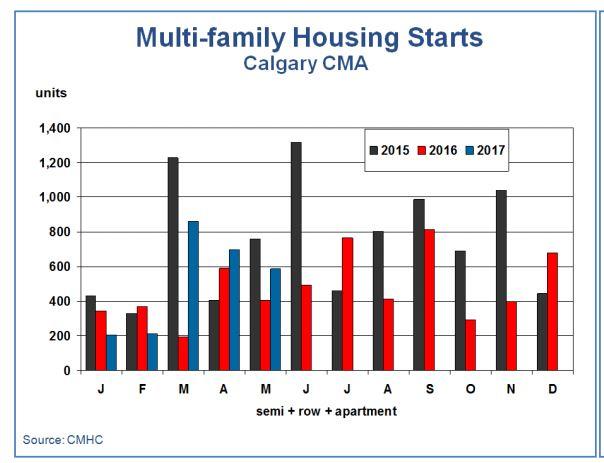 The pipeline of supply is still extremely strong from the previous overbuilding.

Source: CREB
Boardwalk can choose between higher rents and higher occupancy, but it cannot have both. It needs occupancy to consistently stay over 98% to push strong rent increases, and that does not look feasible to us.
4) NAV looks like it is ready for a big chop.
Management actually increased their assessment of fair value NAV of the shares in Q2-2017 while chopping down same property NOI.

This was a surprising result to us as NOI is what fair value and NAV is based on.

Source: Boardwalk Q2-2017 Financials
Boardwalk has its properties valued at $5.732 billion. Some of it relates to properties under construction. Even assuming a generous $332 million related to its projects, Boardwalk is counting its revenue-producing properties valued at $5.4 billion. That NAV would require NOI of $288.90 to justify it.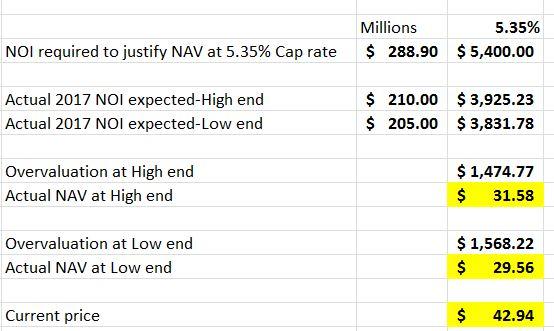 Source: Author's calculations based on management guidance
Actual expected NOI is between $205 and $210 million. Boardwalk's logic for using a much higher NOI is likely that the current numbers do not represent "stabilized" NOI. We think that is accurate. The current conditions are close to the trough, but unlike management we believe stabilized NOI is not 40% higher. We think the auditors are going to take a stringent look at the annual numbers and we would be surprised if revised NAV holds above $50 at year end.
5) Dividend likely to be cut.
We stick by our AFFO estimates from the previous time.

The added information here is that management spending guidance on maintenance and value-added capex has gone up significantly. Also, it is possible that we might be the optimistic voice here as our estimates for 2017 are at the high end of Boardwalk's guidance. Boardwalk is burning through a lot of excess cash trying to keep the dividend the same. Once the NAV is cut down to a what we think is a more realistic value, Boardwalk will have to conserve cash as its debt to asset ratio will jump to a unreasonably high number.
Conclusion
Everyone loves apartment REITs. The logic is that everyone needs to live somewhere. While that may be true, paying 27 times AFFO for an apartment REIT still seems a tad too much. Specially when you couple it with the fact that apartments have the shortest effective lease term of all REITs. We do own one apartment REIT and we will write about it shortly, but we are not touching this one until it trades at least 30% lower.
Disclosure: Please note that this is not financial advice. Investors are expected to do their own due diligence and consult with a professional who knows their objectives and constraints. All amounts referenced in Canadian dollars.
If you enjoyed this article, please scroll up and click on the "Follow" button next to my name to not miss my future articles.
If you did not like this article, please read it again, change your mind and then click on the "Follow" button next to my name to not miss my future articles.
Disclosure: I/we have no positions in any stocks mentioned, and no plans to initiate any positions within the next 72 hours.
I wrote this article myself, and it expresses my own opinions. I am not receiving compensation for it (other than from Seeking Alpha). I have no business relationship with any company whose stock is mentioned in this article.
Editor's Note: This article discusses one or more securities that do not trade on a major U.S. exchange. Please be aware of the risks associated with these stocks.