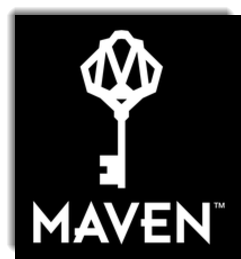 Quick Take
Online publishing network theMaven (OTCQB:MVEN) has registered for sale up to 9.2 million shares of common stock, underlying warrants and underlying options for existing shareholders.
TheMaven is preparing to launch an online media network of channels for general consumer interests across a range of topics.
Given the uncertainties surrounding its pending launch, the large shareholder sale potential in the current registration and its need to raise additional capital in the near future, my opinion is to continue to watch management progress, but AVOID the stock in the near term.
Company & Technology
Seattle, Washington-based theMaven was founded in 2016 to develop a network of online 'media channels and interest groups, each operated by a group of experts, reporters, group evangelists and social leaders as "Channel Partners."'
The company has yet to begin commercial operations, having launched eight channels in beta stage on June 1, 2017. It has plans to more formally launch a complete initial lineup of the following 13 channels later in 2017 or early 2018:
Management is headed by founder and CEO James Heckman, who was previously Head of Global Media Strategy for Yahoo! under Ross Levinsohn and was Chief Strategy Officer at Fox Digital.
TheMaven's business model will be a combination of advertising and paid subscriptions, although management says it expected 'that advertising will comprise the majority of [its] total revenues.'
Financials & Commentary
TheMaven's recent financial results to-date feature no revenues and $2.18 million in losses for standing the company's online network.
Below are the company's operational results for the period July 22, 2016 (Inception) to December 31, 2016 (Audited GAAP):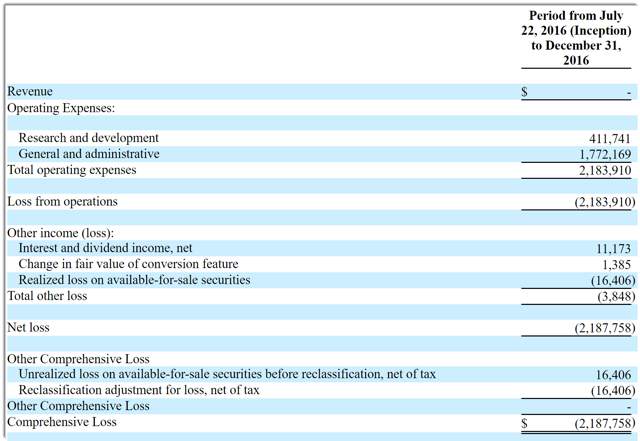 (Source: theMaven S-1/A)
As of March 31, 2017 (10-Q) the company had $3.1 million in cash and $886,229 in total liabilities.
TheMaven will not receive any proceeds from the sale of the shares in this registration.
The company became a publicly-listed firm as a function of its reverse merger acquisition by non-active shell company Integrated Surgical Systems in December 2016. The public entity changed its name to theMaven.
As part of that going-public transaction, shareholders in Integrated Surgical exchanged their shares with theMaven Network, and those shares are part of the current share registration.
The other portion of shares being registered for sale are 3.765 million shares of the company's common stock that it sold in a private placement in April 2017 for $1.00 per share. That transaction required the company to register for resale the shares within 45 days after closing or the earlier of July 30, 2017, or 'seven business days after the SEC informs us that no review of the registration statement will be made of that the SEC has no further comments on the registration statement.'
If management fails to achieve its requirements, a tolling 1% per month liquidated damages accrues up to 7.5% to the investors, so it has a clear incentive to get the registration statement effective by July 30, 2017, just one week from today.
So, this transaction is all about providing liquidity to the existing shareholders of the predecessor entity and the private placement investors.
The company currently has about 26 million common shares outstanding.
Commentary
TheMaven is preparing to go live with its network of expert channels, probably within six to nine months from today.
To that end, management has been proceeding with its business plan to line up 'experts' to serve as channel anchors and draw audiences to the fledgling network in return for stock compensation.
Essentially, the game plan is similar to what Heckman accomplished with Rivals.com, just applied to a network of consumer media interests outside of the sports vertical.
So, without a commercial launch and some growth and audience metrics, there is no way to judge the potential for success until that occurs.
As to the effects of the current share registration, theMaven's shareholders whose shares are being registered in this statement appear to have no holding period or lock-up period once the registration statement becomes effective, possibly as soon as July 30, 2017.
In late May through early July, the company's stock rose from its previous trading range of $1.20 – $1.30 per share to a high of $1.94, but has since retraced its gain back down to $1.30.
It's my estimation that should the current share registration become effective, it is highly likely that a significant number of shares will attempt to sell and will depress the stock price from its current trading level of $1.30 per share.
Notably, the company will need to raise additional capital, as management states,
We will seek additional capital late in 2017 or early 2018 in order to complete the initial stages of our business plan, however, we have not determined the amount of the capital raise required, the terms of any capital to be sought and have no agreements for any capital raise at this time.
Additionally, in the wake of the reverse merger with Integrated, investors would need to perform significant due diligence regarding how 'clean' the shell was from any prior legal claims on its operations.
Accordingly, at this point, I can't recommend that investors go long on theMaven given such uncertainty.
It will be an interesting company to watch as it launches into the marketplace, but there are too many unknowns in its near future.
I write about M&A deals and IPOs. Click the Follow button next to my name in this article if you want to receive future articles automatically.
Disclosure: I/we have no positions in any stocks mentioned, and no plans to initiate any positions within the next 72 hours.
I wrote this article myself, and it expresses my own opinions. I am not receiving compensation for it (other than from Seeking Alpha). I have no business relationship with any company whose stock is mentioned in this article.
Editor's Note: This article covers one or more stocks trading at less than $1 per share and/or with less than a $100 million market cap. Please be aware of the risks associated with these stocks.