"Do not dwell in the past, do not dream of the future, concentrate the mind on the present moment." – Buddha
The beat goes on with new market highs and investors still ponder the issues that continue to play in their minds. Where to invest if everything looks expensive, wondering aloud whether a significant sell-off is imminent. Many still question where we are in the market cycle, and that gives them pause as we are in the eighth year of the recovery.
On that last item, everyone needs to be reminded that there is no time limit on a recovery, and using that to form a strategy is simply making a guess on where this one will stop. It can be argued that in some respects, it has taken these last seven-plus years to get the global recovery even started. Up until now, we have simply been treading water to remain afloat. The synchronized global recovery having just begun in late 2016 is in its early stages.
No one has the answers to many of the other issues that are of concern. A market pullback, future interest rates, etc. Yet, I wonder why people keep searching for them. Human nature, we have to have answers, we hate the unknown. It bothers us that there is something out there that could affect our investments. I am not immune, look at how many times I wrote about technical patterns that could bring about a pause in the uptrend. It's a common fault that has to be kept in check to be successful.

The next pullback/correction is on the minds of many simply because the S&P has gone more than a year without a 5% correction. Since '28, this has only happened five other times with '95-'96 being the last time. More hand wringing and wasted time has taken place in the past year over this. Anxious feelings and procrastination with portfolio management instead of watching what is taking place in the present.
While we need to concentrate on what is happening around us, that shouldn't be done in a vacuum. There are many pieces of the puzzle that have to be put together to get the picture. Many times we question if past history has anything to do with looking at what might occur in the stock market. After all we see the words on every financial disclosure; "Past performance is not a guarantee of future results." While it shouldn't be the only issue to look at when reviewing trends, it can be extremely helpful.
About one year ago, I noted the following graphic that was provided by Ryan Detrick. When July 11, 2016, came along, it represented a period where the S&P had not made a new high in over a year. Remember the commentary in 2015 that the market was rolling over? Early 2016 saw the S&P drop to 1,800, and many were absolutely positively sure the top was in. The fact that the new highs had stopped was confirmation of that theory.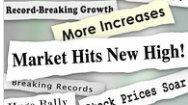 Here is the historical information regarding what has occurred when a new high is made after a year without one. The result was an average gain of 14% one year later.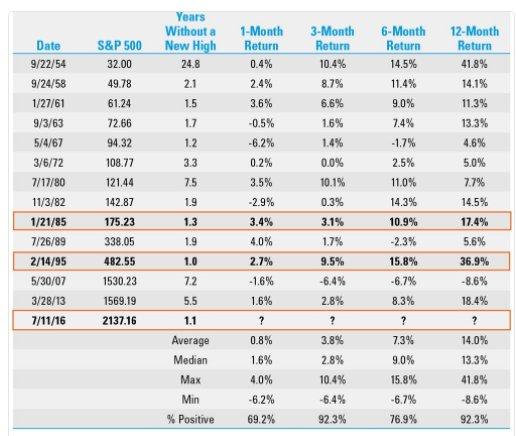 Source: LPL Research
That period without a new high was viewed as worrisome, inducing many to lighten up on equity holdings, and turning outright bearish. However, more telling was that new high recorded in July 2016 was dismissed. The remarks were stated in sarcastic fashion. So what, the S&P is up a whopping 13 points from July 2015 to July 2016.
It was perceived as just another perma bull statistic when it was presented in July 2016. Not many paid attention. After all, the thought process of many concluded the rally off of the February 2016 lows was not to be trusted. Followed up by the Bulls will be trapped, the market top is in, and there is no reason to get back into this market. Well, here we are, one year from that date and the 12-month gain is 15%, a tick above the 14% 12-month average. Coincidence, voodoo, magic? All can decide for themselves.
If that isn't convincing anyone how history might play a part in investing, that's ok, each has to form their own strategy. But here is another reason why it is extremely important to practice patience and look at ALL of the information presented before we decide to make premature changes to a strategy.

A striking example of preconceived notions getting in the way. After all, the thought embedded in the minds of many said that a year without a new market high means the market is on unstable ground, questionable, and about to roll over. A new high coming along that is a mere gain of a few points has to be put aside, because it doesn't fit.
Wrong, it doesn't fit that story, but It does fit another. One that said the market spent a year consolidating huge gains. Therefore, it was a classic case of forming an opinion, not looking around at the entire situation, and to make matters worse, compounding those mistakes by not being flexible.
Anyone following that bearish tone made a huge mistake. I need not go through all of the bullish events that followed, because there were 42 new highs recorded since that July 2016 high. Suffice to say the move out of the trading range at S&P 2,113 has now led to another advance of 360 S&P points or 17%. I mentioned the significance back then, and repeat that it is foolish to hold on to ideas that are being proven wrong by the price action that is present at the time.
Fast forward to the present and Jeff Miller puts forth a timely piece that hits the nail on the head with his missive titled "Have You Missed The Rally?".
The across the board move in the indices to new highs now should not be taken lightly. Write it down as a reminder when our wills are tested the next time the market weakens. This type of strength is just another stepping stone to higher prices.

Economy
Empire Manufacturing opened the week with a disappointing report that it fell to 9.6 from the prior month's reading of 19.7. Keeping the situation in context suggests that we do not forget that last month's reading was the highest level in two years.
Philly Fed Manufacturing came in lower than expectations as well with a reading of 19.5. Growth remains positive as we glide along with the up and down results.
Leading Economic Indicators was a nice surprise coming in at 0.6% versus the expectations of 0.4%, with 8 of 10 components strengthening. We have to go back to Dec. 2014 to see a report that was better. Simply put, as long as this ratio is rising, the US economy is extremely unlikely to enter recession.

When we look at retail sales these days, we are looking at two different worlds now. Bricks and mortar and online. On a year-over-year basis, brick and mortar retail sales are up 2.8%. The comparable online sales growth rate is triple that at 9.2%. A side note, Amazon (NASDAQ:AMZN) accounts for 43% of US online retail sales.

More evidence that the employment picture is signaling a stable economy.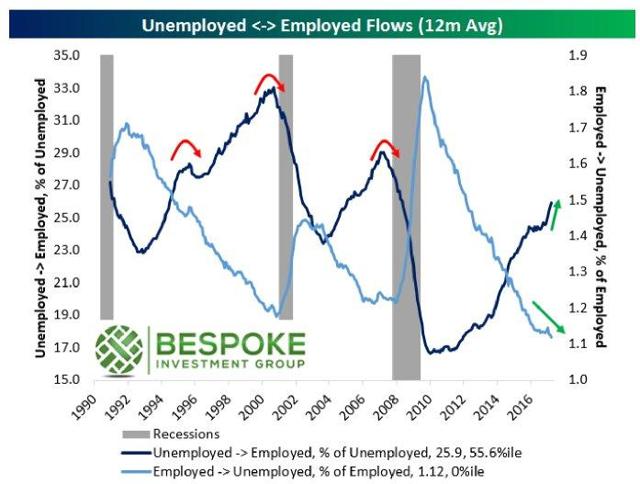 An interesting read on the issue of wage growth, stating there is no mystery, it is exactly where it should be.

Homebuilders are citing higher lumber costs as one reason they don't feel so good about things these days. Homebuilder sentiment fell 2 points to 64 in July. Sentiment has been weak in three out of the last four months.
Housing starts were up 8.3% versus the expectation of a 5.5 % increase. The all important data on building permits was a larger surprise, increasing by 7.4%. Analysts had forecast an increase of 1.7%. The results were four-month highs for both reports.

Global Economy
The ECB leaves interest rates unchanged. Mario Draghi's post press conference statement reflected a dovish posture:
"A very substantial degree of monetary accommodation is still needed."
That should put to rest any earlier commentary that many took as a turn to a hawkish stance.
Eurozone July consumer confidence report showed a small miss versus expectations, with the index reading -1.7 versus -1.3 previously.

China continues to be in the cross-hairs of many analysts as the key to the global growth story. If that truly is the case, then the latest round of economic reports give us something to build a positive story on.
Retail sales improved significantly, racking up the largest increase since 2015. Chinese Industrial Production did not disappoint, matching the high-water mark put in last March. Both metrics blew away the analyst estimates.

The Bank of Japan also left its interest rates unchanged, and that came as no surprise. Japan imports and exports both beat as nominal trade continues to expand after its long retrenchment during 2014-2016.

Canadian Housing Market continues to make headlines as the market has turned on a dime. The recent April highs in prices now seem to be a distant memory given the quick turnaround.
Manufacturing PMI for Canada fell slightly to 54.7 from the prior month read of 55.1 and remains solidly in expansion territory.

Earnings Observations
Readers can view a summary of the headlines as they are reported. A quick way to get a feel for earnings is faring. Nine Dow components reported last week and only one missed estimates, Travelers Companies, Inc. (NYSE:TRV).
Corporate earnings are expected to be up 8% year on year in Q2, but many believe there's a good chance it hits double digits again.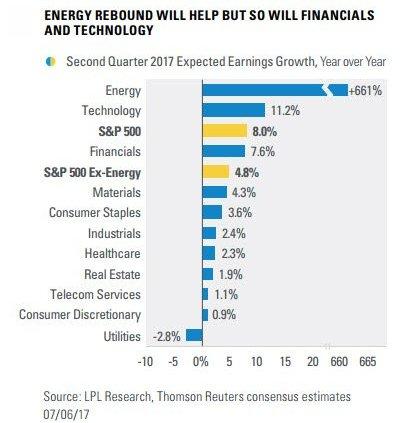 Not many are talking about it now but weakness in the USD could be a fairly large tailwind to corporate profits. Removing what was a large headwind will help achieve the percentage gains some expect. The USD closed Friday at a one-year low.
FactSet Research weekly update:
As of Friday, with 19% of the companies in the S&P 500 reporting results for Q2 2017, 73% of the S&P 500 companies have beat the mean EPS estimate and 77% of S&P 500 companies have beat the mean sales estimate.
For Q2 2017, the blended earnings growth rate for the S&P 500 is 7.2%. On June 30th, the estimated earnings growth rate for Q2 2017 was 6.6%.

Nine sectors are reporting or are expected to report earnings growth for the quarter, led by the Energy sector.
The busiest day in that two week stretch will be on 7/27 when 201 companies in the S&P 1500 report.

The Political Scene
The first headline this past week read that Congress delayed the vote on the healthcare bill due to the emergency surgery that Senator McCain underwent over last weekend. Then it was scrapped for now when it appeared that it had no chance of passing. The sad news that Mr. McCain was diagnosed with brain cancer brought an outpouring of support from all sides of the aisle. Regardless of one's political bias, he is a true patriot.
So it's back to the drawing board, and if you haven't heard it, this rant from Jamie Dimon says a lot about what has been, and what continues to be in place in D.C.
The markets seemed to take most of this in stride even though it raises more uncertainty and questions about what some investors are really concerned about, tax reform. The earnings picture being presented to us keeps the D.C. issues in the background for now.

The Fed
History has shown us that tightening cycles end in recession. This is where the yield curve comes into play as a recession predictor. During a tightening cycle, the impact of higher rates at the short end of the yield curve typically outweighs that at the long end. An inversion of the yield curve signals the tightening has become excessive, threatening economic growth. Generally, longer-term yields fall further, deepening the inversion, as market participants expect the Fed will soon begin cutting short-term rates.
Recent history suggests that the greatest risk of recession occurs if the Fed continues to tighten after the initial inversion of the yield curve, which happened prior to the last two recessions. The Fed's rapid policy reversal in 1995 prevented the tightening cycle from evolving into a recession. What economists will now debate is how much tightening remains before the Fed inverts the yield curve.
For what it is worth, the Fed's dot plot projections indicate that policy makers anticipate another 1.25 percentage points by the end of 2018. So unless we suddenly see the Fed go on a rate increase frenzy, the possibility of a recession occurring in 2018 seems unlikely.

Sentiment
Reporting the subdued numbers of bulls around these days week after week got me to thinking. We shouldn't then extrapolate these results by stating that the majority is bearish. That isn't true. Overall sentiment should be categorized as mostly anxious and confused, though with an identifiable bearish tone.
Just released short interest figures through the end of June also highlight a lack of bullish sentiment on the part of investors. Negative bets for the S&P 1500 as a whole, mid caps, and small caps are all at their highest levels in a year. The markets have broken out in unison again and the majority isn't convinced.
No matter how we slice it, nothing suggests a euphoric atmosphere. The recent AAII report while showing a slight increase to 35% for the bulls remains at subdued levels.

Crude Oil
Oil prices remained stable early in the week, then received a bid after the weekly inventory report was announced. A drawdown of 4.7 million barrels exceeded analysts' estimates. Gasoline inventories also decreased by 4.4 million barrels, more in line with what occurs when the summer driving season is in full swing.
Saudi Arabia is reportedly considering cutting its crude exports by a further 1 million barrels a day. We have heard similar rhetoric before, so all should be taken with a grain of salt.
WTI closed at $45.70, down $0.84 for the week. Prices flirted with overtaking the 50-day moving average, but at the end of the week, it was rebuffed at that resistance.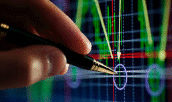 The Technical Picture
Checking up on breadth for the S&P 500, the picture remains the same. Breadth continues to track and, in many cases, has actually led prices higher. While the major indices were making all-time highs in unison, it came with strong breadth as the advance/decline made a new high as well.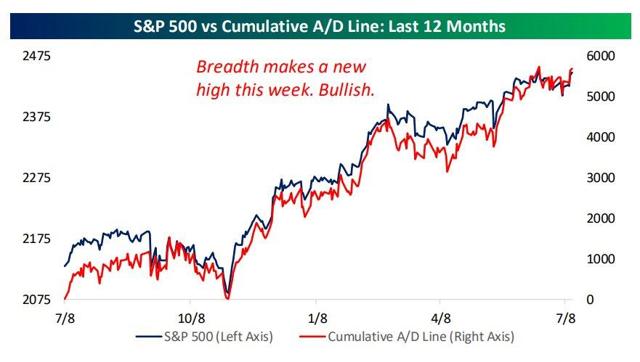 Source: Bespoke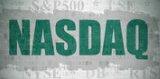 The question whether the recent 4% dip in the index was all we were going to see was answered with a fresh new high in the Nasdaq this past week. The relentless bull market in the technology sector continues.

New highs again this past week, leaving the short-term situation in overbought territory.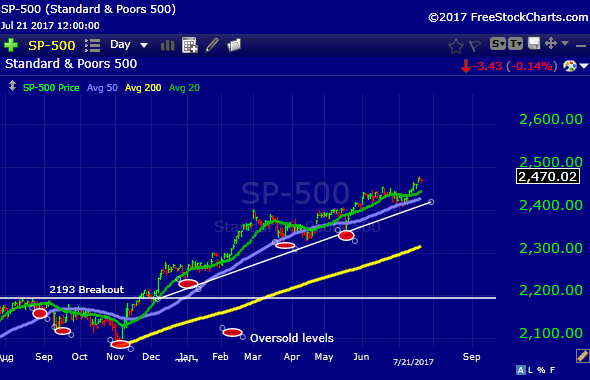 Chart courtesy of FreeStockCharts.com
The S&P has now drifted well above the up-trending moving averages (green and blue lines), and a reversion back to the 20-day MA (2,440) may be the next move. Looking closely at the daily chart shows how that has been the case in the past. Short-term support is at the 2,456 and 2,444 pivots, with resistance at the 2,479 and 2,525 pivots.

Market Skeptics
Michael Santoli chimes in on another market myth.
"You say the market's calm, firm bid is due to algos and other mechanical forces? Well, we had similar phases long before ETFs or computers."


Individual Stocks and Sectors
There is the theory as the economy matures and the Fed enters the picture raising interest rates, that picture suggests that value will outperform growth. The idea now centers around the fact that we find ourselves in the ninth year, and thus likely in the later stages of the economic cycle. That is the usual time when the central banks begin to tighten. Importantly, this measure shifts the yield curve upward, but at the same time, it generally starts to flatten out.
Many are already running with this premise. I believe it's way too early to start making large portfolio adjustments at this point in time.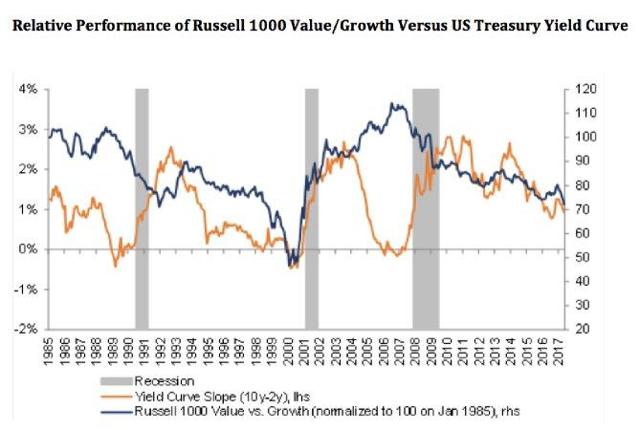 Chart courtesy of Deutsche Asset Management
As the chart above shows, in periods of flattening yield curves, growth stocks have outperformed. The only exception was in the 2005-07 period when Financials outperformed. Sure, we have had a huge run in technology stocks, but with the recent breakout on an index that virtually did nothing for 17 years, the run may not be ending but just beginning.
The argument of where we are in the economic cycle can be debated; some of my arguments were in the opening comments of this article. We also find ourselves in an economy that is much less dependent on manufacturing and oriented more toward services and tech. These types of changes tend to reduce cyclicality and extend recoveries.
At this moment, I do not see the Fed posture as one that will be so dramatic as to steepen the yield curve swiftly. As always, a good balanced portfolio usually outperforms one that is skewed heavily to one side or another. Bottom line, plenty of room in any portfolio for both Growth and solid Value stocks.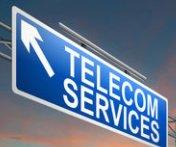 Ok, stop the madness. I have watched Verizon (NYSE:VZ) and AT&T (NYSE:T) come down from their highs to levels where they are extremely oversold. IF one wants income with little risk and is patient, the total return on these two will be a rewarding experience. I added shares of both in client accounts this past week. This is another situation of adding an unloved stock in an unloved sector. One should be made aware that both stocks are in bear market territory, the grind back up will be slow and rocky. They remain caught up in a negative feedback loop as all of the negatives are highlighted daily. In this case, the income makes that less of an issue for me.
On the other side of the spectrum T-Mobile (NASDAQ:TMUS) is the growth engine in the sector. No income here, it's all about growth. Shares have come down as well during the sector's weakness and look attractive here. Unlike the first two stocks, this company has been in a positive feedback loop, and is entrenched in a bull market trend. That is confirmed by the recent earnings beat and a raise in its guidance. The stock just got caught up in the negative overhang of the sector. Unloved, unwanted, but at some point a reversion back to the mean may produce solid outperformance in the entire sector.

Breadth within the S&P 500 Financial sector has been extremely strong lately. The chart below shows the price of the S&P 500 Financial sector since 2001 with days where 100% of stocks in the sector closed above their 50-day moving averages highlighted in red. The first time it happened was in early 2009 just after the Financial Crisis lows were put in. The last time it happened was more than four years ago in May 2013. This shows how long it has been since we've had full participation in the Financial sector.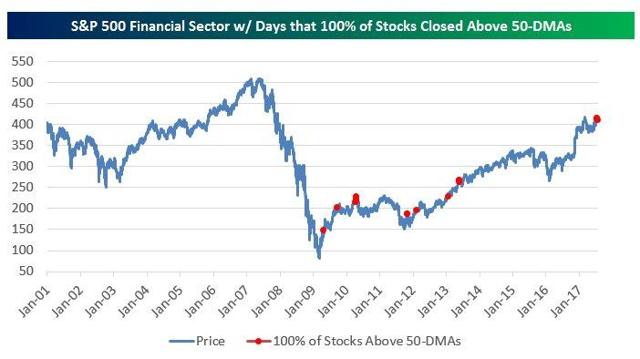 Source: Bespoke
Bank of America (NYSE:BAC), Goldman Sachs (NYSE:GS), Morgan Stanley (NYSE:MS), American Express (NYSE:AXP), Capital One (NYSE:COF) and Visa (NYSE:V) kept the winning streak for the financial stocks intact as they ALL beat estimates.
Back in May, I was looking to add a regional bank or two and a reader brought PacWest Bancorp (NASDAQ:PACW) to my attention. I'm glad I listened, researched, and added shares. Shares spiked after they reported a solid quarter. This company is worthy of a look at these levels. It is still inexpensive and yields 4.2%.
I still contend that Amazon is the retail stock to own. Its recent Prime day is just one of many reasons that this company's stock will be much higher in years to come. Until we see these trends start to dissipate, there are two consumer retail stocks to own, Alibaba (NYSE:BABA) and Amazon. Both have just put in record highs. When the next scare is surfaced, these two are candidates to add long-term growth.
Brad Thomas follows my thoughts citing his views that the recent drop in Physicians Realty (NYSE:DOC) is an opportunity. This week I took a look at another income producer in the healthcare REIT space, Healthcare Trust of America (NYSE:HTA). It appears it is well positioned to deliver growth and income. Don't take that from me; Brad Thomas put forth a recent article highlighting the company's strengths. When I get solid results, I like to go back to the source that has made many good calls on individual stocks.

While the calendar has changed, the mindset of investors has not. The second half of the year is just two weeks old, but already we are beginning to see a trend where the winners from the first half have kept on winning to start the second half. It's still early in the second half, but so far at least, most of the trends from Q1 remain in place this half.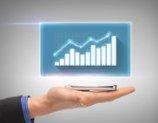 We also find ourselves in the same place we have been before. Deja Vu all over again. Across the board highs registered in ALL of the major indices. Stock market returns tend to be slightly mixed with a lean to the downside in the short term after a show of strength like we just witnessed. Suffice to say, no matter what happens in the short run, that show of a broad advance is a precursor to higher equity prices down the road.
We have seen how preconceived notions can have an adverse affect on a portfolio. One way to view the equity market is to take the situation in small increments. Once the long-term trend is firmly established, it may be best to look out only six months or so. Doing so allows one to constantly check the data and challenge their views keeping them flexible in their approach to the market.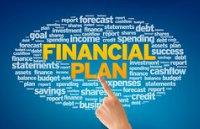 In essence, take the big picture, the view at 30,000 feet (secular bull market), then break that down to smaller pictures. The micro view that can and will change more often. In my opinion, this results in a higher probability of success. There is a big difference between what is happening now and what may happen. At present, the market has established a very powerful long-term trend; anyone deciding to fight that trend has found themselves in a difficult situation.
So much evidence has been presented indicating that the stock market and all of the new highs along the way are still not totally accepted. There are hordes of people waking up every day looking for the chink in the armor, thinking of ways to prove the bullish case wrong. After the Nasdaq posted a new high on Tuesday, the very next story presented on CNBC was "We are looking into what is keeping investors up at night." I rest my case. I mentioned this in a previous missive, the market pulls back, there is anxiety, and the market runs to new highs, many are anxious. Many remain frozen in place.

It should be abundantly clear by now that this isn't a Trump trade. Healthcare initiatives appear shelved and none of the administration's major agenda items has been enacted. I have maintained that posture since February, and again in March, when I noted that many market pundits have the story wrong. My view then, the stock market was not going to rollover because the agenda was stymied.
The evidence for why I ignored anyone running around with a Trump trade banner was right there in front of our eyes. The July 2016 break to a new high was well before the election, and as the opening paragraphs concluded, it was dismissed. The rally was born with the start of the global recovery that had just begun. I will concede that what has been accomplished by the administration is a mindset indicating the war on business is over.
The short-term view always has question marks, but right now there is an absolute lack of selling pressure. The S&P dropped 2% before making a new high, and the Nasdaq 4% before hitting its new high this week. Of course, it is anyone's guess as to how long this situation might last, but with ALL of the confirming evidence presented, there is little reason to question it.
The latest round of market advances leads me to believe once again that it is not a time to attempt to outthink the market. Just stay the course.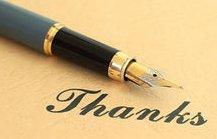 to all of the readers that contribute to this forum to make these articles a better experience for all.
Best of luck to all!
Disclosure: I am/we are long AMZN, BABA, V, VZ, T, DOC, HTA, GS.
I wrote this article myself, and it expresses my own opinions. I am not receiving compensation for it (other than from Seeking Alpha). I have no business relationship with any company whose stock is mentioned in this article.
Additional disclosure: The opinions rendered here, are just that – opinions – and along with positions can change at any time.
As always I encourage readers to use common sense when it comes to managing any ideas that I decide to share with the community. Nowhere is it implied that any stock should be bought and put away until you die. Periodic reviews are mandatory to adjust to changes in the macro backdrop that will take place over time.