Notes for the readers
The different data, figures or graphs have been retrieved from a report of Interactive Brokers (NASDAQ: IBKR), the broker I used currently to purchase and sell my stocks. Please also note I am a personal investor; please do your own research prior to making an investment decision.
A Worse First Half Year. No need to Deny.
My portfolio performed very well in 2016 and ended with a 32.82% gain. Compared to the chosen benchmark indexes – S&P 500 (SPY), iShares MSCI EAFE ETF (EFA) and Vanguard Total World Stock ETF (VT) – my portfolio performed better than they did. But now what's happened in 2017? Regarding the YTD performance of my portfolio, it could be considered as a mess or a disaster. My portfolio ended the first semester of 2017 with a YTD 7.78% loss or a 1.60% negative performance in June. The positive momentum shortly started in March was destroyed and the downward spiral started in May continued in June. During June, the variation of the USD foreign exchange rate was the primary driver of the negative monthly performance.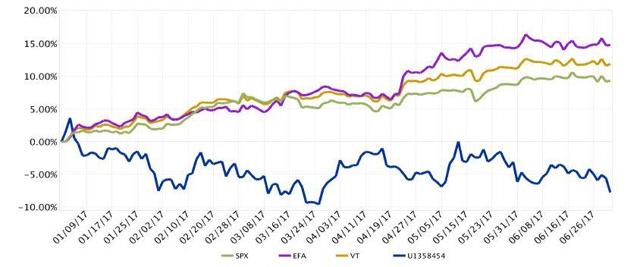 Source: Interactive Brokers' analysis report
The negative performance in June is mainly driven by the unfavorable USD-EUR foreign exchange rate, Tesco's (OTCPK:TSCDF) poor performance and American Outdoor Brands Corporation's (AOBC) price drop. Hopefully, Awilco's (OTCPK:AWLCF) and Sears' (NASDAQ:SHLD) positive performance partially offset the negative performance of the portfolio, the price of these stocks increasing by 1.56% and 0.74%, respectively.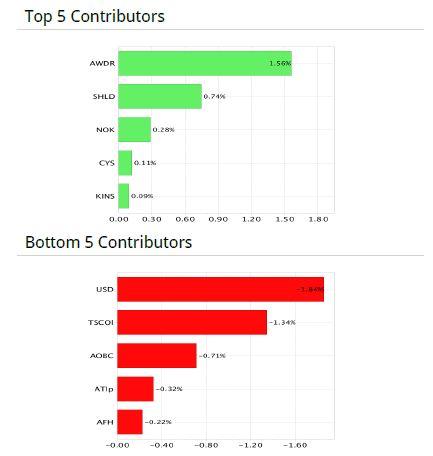 Source: Interactive Brokers' analysis report (Monthly report)
On a YTD basis, the negative performance is driven by the drop in Awilco and Tesco. Awilco was mainly impacted by the oil crude price and the poor perspective regarding a potential increase in the oil price. Tesco remains for many investors a bad investment decision, in spite of improving results and financial situations. To change their opinion on the stock, it will take time. Hopefully, CYS (CYS) and Actia performed well, and my portfolio was also favorably impacted by the foreign exchange fluctuations.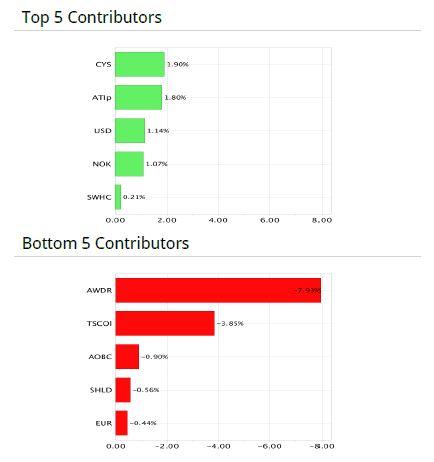 Source: Interactive Brokers' analysis report (YTD report)
As I repeat in all my portfolio review articles, I am not afraid of the volatility of my portfolio. I am not happy to virtually lose money, but I know my unrealized losses are partially related to bad investment decisions as I explained previously. Furthermore, my investing horizon is a long-term one, as I am only 28 and do not need the invested money for the moment. However, I should not stick my head in the sand and pretend that all is well. Everything is not okay. I am losing money, while all investors expect to earn some. I am still too leveraged and am paying for bad investing decisions (e.g. Sears, Tesco and maybe an over-concentration on Awilco)
On an asset management side, I did not do anything this month for different reasons: I ran out of time due to professional tough times, I finalized the preparation of my summer vacation in Sri Lanka and anyway I did not have any cash to invest in any stocks.
June 2017 Portfolio Allocation
My current portfolio is small and consisted of the following nine companies at the end of June 2017:
Actia Group, a French listed company which is not listed on any U.S stock exchanges. Actia Group manufactures automotive electronics and telecommunications electronics products. Actia Group is a mid-market company founded in 1986 which is very internationalized
Tesco PLC, a British multinational grocery and general merchandise retailer.
Awilco Drilling PLC, a UK-based Drilling Contractor, owning and operating the two refurbished and enhanced mid-water semi-submersible drilling units.
Atlas Financial Holdings Inc. (AFH), a US-based niche specialty insurer focused on the light commercial automobile sector.
CYS Investments Inc., an mREIT which invests in agency residential mortgage-backed security (Agency RMBS) collateralized by fixed rate single-family residential mortgage loans.
Sears Holdings Corp., a declining retailer which operates in the United States.
American Outdoor Brands Corp., the new corporate name of Smith & Wesson. The company manufactures firearms. Last year, the company acquired other firms to diversify its sources of revenue. In January 2017, AOBC created its new Outdoor Recreation Division to expand its portfolio of consumer brands and products further into the rugged outdoor recreation market. Regarding the last AOBC's presentation, "Outdoor recreation" market size is around $30-35 billion.
Solitron Devices (OTCPK:SODI), a company which designs, develops, manufactures and markets solid-state semiconductor components and related devices primarily for the military and aerospace markets. Solitron is a "Net-net" company which entered into Chapter 11 protection in 1993 but recovered thanks to the action of the former CEO, who left the company after a bloody battle with Eriksen Capital Management, an activist fund.
Kingstone Companies Inc. (KINS), a multi-line regional property and casualty insurance company writing business exclusively through independent retail and wholesale agents and brokers. The insurer is licensed to write insurance policies in New York, New Jersey, Connecticut, Pennsylvania, Rhode Island and Texas.

Source: Interactive Brokers' analysis report
In June, I did not do anything regarding my portfolio allocation. I only followed at a high-level view the performance of my equity portfolio.
AOBC: Strong FY 2017 Results Release, Poor FY 2018 Guidance, A Punished Stock
The company beat the estimates with full-year record revenue of $903.2 Million, up 24.9% year over year. However, the company shared its FY 2018 guidance with the market: revenue of $750M to $790M for FY18 and an EPS of $1.42 to $1.62. And the market did not like it and punished the company. In my view, the guidance is over-conservative, and the company will continue growing and improving its profitability. To make a long story short, I still consider AOBC as undervalued. My price target threshold for reducing my exposure to AOBC remains $30 per share.
Solitron, Atlas & Actia: Sleepy, Sleepy Stocks
There is nothing relevant to be mentioned for these three stocks. No big news has been released. Actia will release its Q2 turnover figures in August, while for Solitron nothing happened during June. As Solitron is a net-net company and represents a small portion of my stock portfolio, I will keep sleeping well. Regarding Atlas, my target remains $21 per share or a 40% potential upside.
Tesco: The Recovery Will Take Time
As mentioned in my previous monthly review, Tesco released its quarterly sales results in June. They were high (mainly in the U.K) but were completely overshadowed by Amazon's (AMZN) announcement to purchase Whole Foods Market (WFM), which is also present in the U.K. market. Like-for-like sales performance was 1% at the group level, mainly driven by a UK like-for-like sales growth of 2.3%, while in Asia and Europe the sales decreased by 0.4% and 6.0%, respectively. Furthermore, the management continues to implement plans to reduce the company's cost base by £1.5bn. The market is still pessimistic about Tesco's future, but I am a patient guy. I keep my stocks.
CYS: Declaration of the Quarterly Dividend
CYS has declared a stable quarterly dividend of $0.25 per share. Q2 results will be discussed during the conference call on 27th of July. I do not expect big troubles regarding the stock price.
Sears: More Stores Closing in June to Stop the Bleeding
As I wrote before many times, Sears' situation is fascinating. Sears stock price is still decreasing, many investors considering that the efforts done by the management would not be sufficient to recover the company on track. I keep following Sears' stock price evolution and the news related to the enterprise, but I do not expect to strengthen my position in SHLD (as a reminder, I am keeping my shares for tax purposes). From an operational perspective, the management announced in June to close 20 more stores in the U.S. The pending question is: will Sears follow the same path than Sears Canada? Future will tell.
Dividend received from Kingstone and Awilco
As expected, the quarterly dividends of Kingstone and Awilco were paid, improving my cash balance slightly.
Asset Allocation: No Fund Transfer, Waiting For Better Days To Come
Regarding my asset allocation at the end of June, I'm still too leveraged.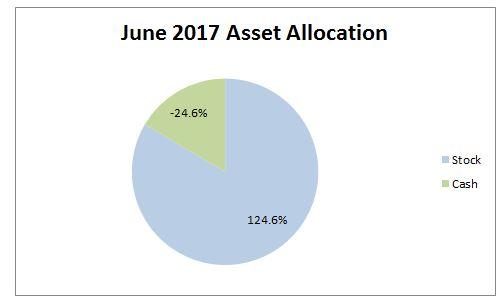 Source: Interactive Brokers' analysis report
Unfortunately, I was not able to transfer funds to my accounts still because of the increase in my expenses.
And Now… What's next for July and forward?
As mentioned before, I have decided to be slightly more active in my portfolio management for two reasons: reducing my cash leverage and boosting my performance by strengthening/lowering my position in the stocks I own. Hence:
I will stay long on AFH, AOBC, Actia in 2017 because I am quite confident in the results delivered by these companies.
I will stay long on AWLCF, whatever the evolution of the oil price, as long as the remaining contract backlog exists, but I may reduce my exposure to Awilco in the case of a significant increase in the stock price. It could happen but only in August when the Q2 will be published.
For Tesco, I will keep my stocks for the moment.
I will try transferring more funds from my cash account to restore my cash balance and to invest in more stocks.
Increasing the portfolio diversification is an open option.
However, I do not have any goal regarding asset allocations for 2017.
My target remains an 8-9% annualized long-term return.
However, for July precisely, I know that my monthly performance is not in my hand. We are already mid of July, I did not do anything (still due to a lack of time) and I will be out for two weeks. I would not expect a positive performance in July. It is bad but at least I am already aware of it.
Conclusion
As sure as I am acutely aware of the irreproducibility of my 2016 performance over the long term, I remain confident to reach an 8% annualized long-term return. For the moment, I am underperforming all the chosen benchmarks on a YTD basis. In July, I will enjoy my vacation and come back in August, hoping that the second semester of 2017 will be better for the performance of my equity portfolio.
Disclosure: I am/we are long AFH, AWLCF, CYS, SHLD, TSCDF, AOBC, SODI, KINS, AND ACTIA (ISIN: FR0000076655).
I wrote this article myself, and it expresses my own opinions. I am not receiving compensation for it (other than from Seeking Alpha). I have no business relationship with any company whose stock is mentioned in this article.
Editor's Note: This article covers one or more stocks trading at less than $1 per share and/or with less than a $100 million market cap. Please be aware of the risks associated with these stocks.