Prospect Capital Corporation's (NASDAQ:PSEC) Net Asset Value discount has widened lately as the U.S.-North Korea stand-off has induced new volatility into the stock market. With Prospect Capital's shares falling back, there is a good opportunity to gobble up a couple of shares at a discount price. That said, though, an investment in Prospect Capital carries a high degree of risk, and a distribution cut in 2017 is certainly within the realms of possibility if the company's dividend coverage stats don't improve.
Stock prices have retreated in the last several days as the verbal back and forth between the U.S. and North Korea caused investors to sell stocks. I think the sell-off is a good opportunity to buy into Prospect Capital (despite the risks) as shares are again selling for a sizable discount to the last reported Net Asset Value.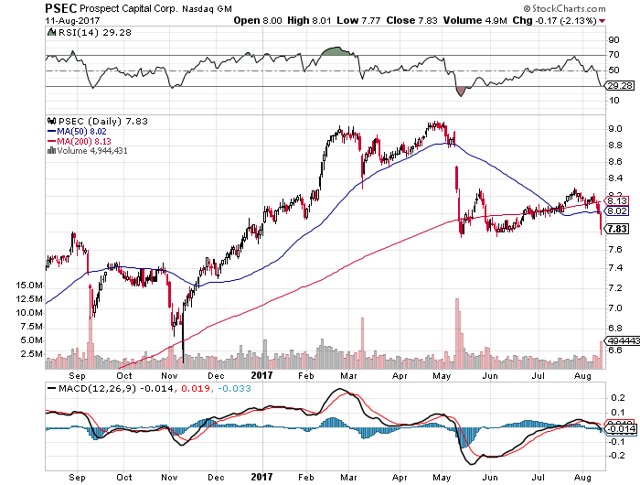 Source: StockCharts.com
You may recall that I aggressively recommended investors to buy Prospect Capital during last year's market drop, and that I sold Prospect Capital earlier this year due to concerns over valuation as well as sentiment. While I have not opened a new position in PSEC yet – largely because I thought shares were too expensive relative to what Prospect Capital earns in terms of Net Investment Income – I am strongly leaning towards buying the BDC again for my high-yield income portfolio for one specific reason: Valuation.
Prospect Capital's shares sold for as little as half Net Asset Value at some point in the first quarter of 2016, but shares recovered strongly throughout the rest of the year, and ultimately managed to sell for approximately Net Asset Value in early 2017. Today – thanks to the market drop and investors' demonstrated propensity to divest of risk assets – Prospect Capital's Net Asset Value discount has again widened to approximately 17 percent, providing income investors with a much higher margin of safety than just three months ago.

Prospect Capital's Biggest Risk
Prospect Capital's shares currently throw off a $0.08333/share monthly dividend. As a result, an investment in Prospect Capital yields a whopping 12.77 percent. The biggest risk for shareholders, of course, is that management adjusts its dividend rate downward in order to reflect lower Net Investment Income going forward.
I have argued before that the risk of a distribution cut has grown in 2017, thanks to Prospect Capital's deteriorating dividend coverage stats on the back of lower Net Investment Income. As a matter of fact, Prospect Capital has under-earned its dividend in the last three quarters. If its NII doesn't rebound in the next one or two quarters, I think investors need to brace themselves for a dividend cut.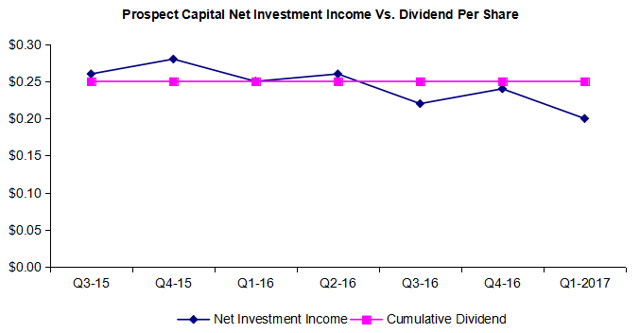 Source: Achilles Research
Your Takeaway
Even though there are risks relating to PSEC's dividend continuity, today's valuation is attractive enough from a reward-to-risk standpoint to justify scooping up a couple of shares at a discount valuation. I think the drop in the share price is a reflection of growing investor anxiety over geopolitical events, and not so much a reflection of Prospect Capital's value proposition. The shares can be bought for a 17 percent discount to the last reported Net Asset Value. Buy for income.
If you like to read more of my articles, and like to be kept up to date with the companies I cover, I kindly ask you that you scroll to the top of this page and click "Follow". I am largely investing in dividend paying stocks, but also venture out occasionally and cover special situations that offer appealing reward-to-risk ratios and have potential for significant capital appreciation. Above all, my immediate investment goal is to achieve financial independence.
Disclosure: I/we have no positions in any stocks mentioned, but may initiate a long position in PSEC over the next 72 hours.
I wrote this article myself, and it expresses my own opinions. I am not receiving compensation for it (other than from Seeking Alpha). I have no business relationship with any company whose stock is mentioned in this article.