Last week I wrote on Farmland Partners (FPI) whereby I explained that I was "maintaining a hold." While another author decided to voice a STRONG SELL, I opted to maintain a bit more optimism that "FPI could turn the corner in 2018". I added that
I must maintain cautious skepticism until I see a few more quarters of performance. I don't care how cheap the stock is today – if the company is not covering the dividend, it's higher risk.
Several readers have asked me to take a deeper dive into FPI's direct peer, Gladstone Land (LAND). As you know, I'm not a big fan of REITs that are managed externally, but I thought that there could be an argument to own shares if the fundamentals were strong enough (to convince me otherwise).
Up until recently, the farming industry has been highly fragmented, with a large portion of land owned by family farmers. Because of the absence of large operations with appropriate diversification, the "mom & pop" farmers were not able to access capital in a meaningful way.
However, thanks to the REIT model, farming has become a more accepted method to gain exposure. Investors are looking to better understand the size and structure of the investable farming asset base and to gain a better understanding the intricacies of the agriculture investment platform.
One of the attractive factors for investing in farmland, from an investment perspective, is the opportunity for consolidation, given the importance of scale in driving returns from agriculture. That thesis is now validated, based on the growing acquisitions for both LAND and FPI.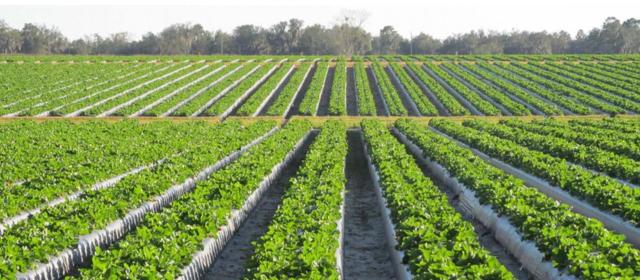 Gladstone Land
In January 2013, the first farming REIT, Gladstone Land entered the public markets after completing a $50 million IPO on January 28th. The company had filed for the new IPO on September 18, 2012, after withdrawing its previous registration statement in March 2012.
Gladstone struggled during its first several days of trading, likely due to its 70% tenant concentration with Dole Food Company. However, today LAND owns 59 farms (282 parcels) with 54,340 total acres in 7 states, valued at approximately $461 million, and all farms are 100% leased.
One way to lower risk is to diversify the location of the farms owned. Within every state, there are multiple growing regions. For example, in California, there may be as many as several hundred different growing regions. Each one will have a different micro climate, different water availability and different soil. Due to there being so many different growing regions, LAND can achieve strong diversification by owning farmland in 7 states.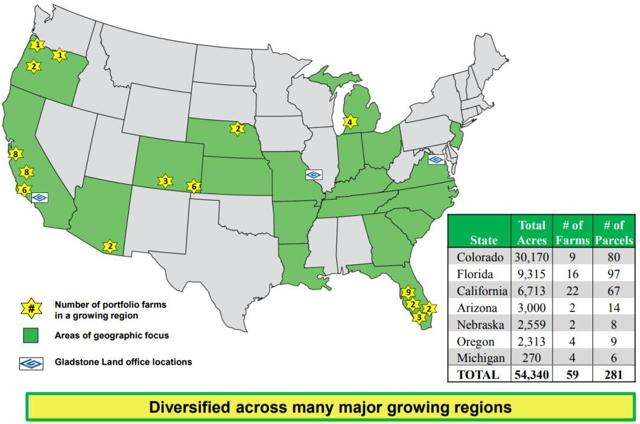 As time goes by, LAND intends to add more states and more growing regions. The number of farms is often put forth as proof of diversification, but to be more accurate about diversification, one should look at the number of tax parcels, since a parcel could be bought and sold (and thus farmed) independent of the other parcels in the farm. LAND is currently seeking farms in many other states.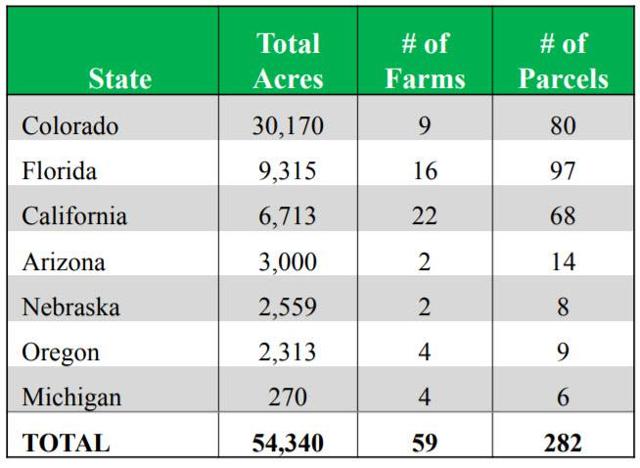 LAND believes that California farms are some of the most productive in the world, and they are also some of the most expensive. According to the USDA, in 2015, California had the most profitable agriculture year in the history of the state, producing approximately $10 billion in farm products. One characteristic of California that makes it a prime growing region for fruits and vegetables is its dry climate.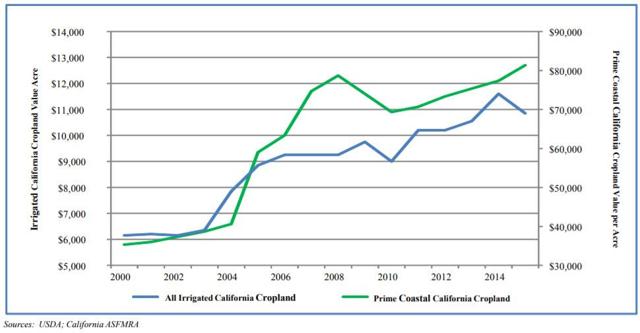 Some people worry about the availability of water in California, and it is true that land without water is not desirable as farmland.
However, all of the farms owned by LAND have their own wells onsite, and many have turnouts for the city's water processing plants. For example, Watsonville, CA, has two processing plants that takes the effluent from the city and processes it into potable water suitable for drinking and irrigation.
This means the farmer can use either the on-site well water or the water from the processing plants. Many coastal California cities have water processing plants that turn ocean water into drinking water. Primarily for that reason, most of LAND's California farms are on the coast. In addition, almost all past water restrictions in the state have since been lifted.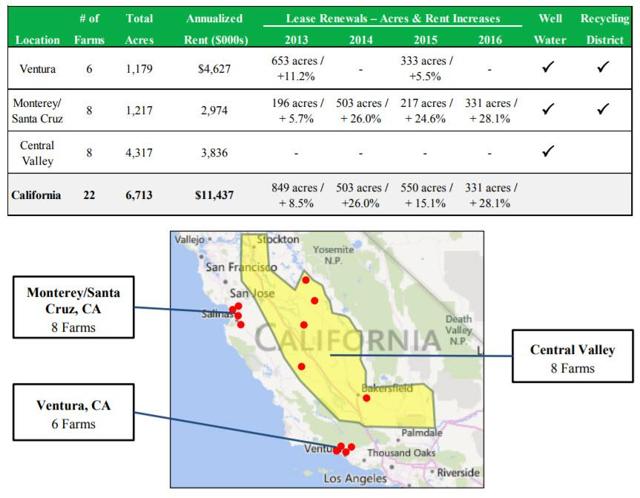 California irrigated cropland has experienced some of the strongest and most consistent appreciation of any real estate asset class over the past few decades. Since 2000, California irrigated cropland has appreciated in value by 119%, which does not include the annual rental income earned on the farms.
During this time period, the only negative years were in 2009 and 2010. Prime coastal cropland, which commands premium rents and is primarily used to grow the highest-value row crops, such as fresh strawberries, has experienced similar appreciation as the rest of California's irrigated cropland. Since 2000, prime coast cropland land values have appreciated by 83%.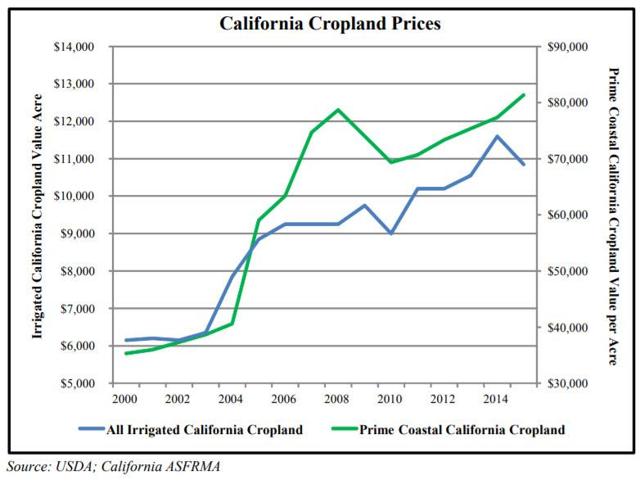 Since LAND's IPO in 2013, the company has purchased over $353 million of new farm assets. While this is a small percentage of the overall market value of U.S. farmland, there remains a great opportunity to continue buying farmland.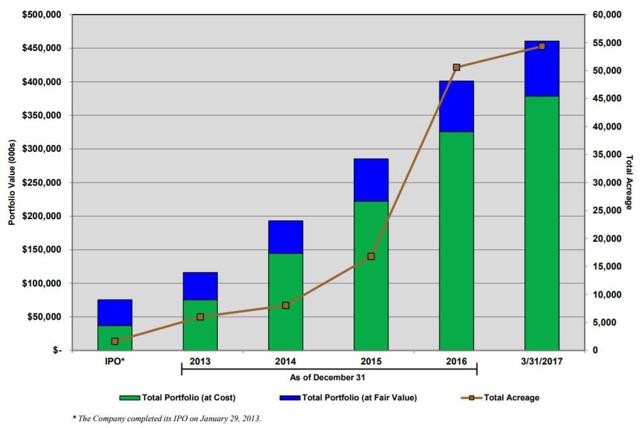 U.S. Farmland Values are Increasing
As farmland is converted from farming to other uses, the value of the remaining farmland increases. The pressure of feeding an increasing population and the reduction of farmland drive up the value of farmland and, in return, the rent paid for the remaining farmland for high-value crops.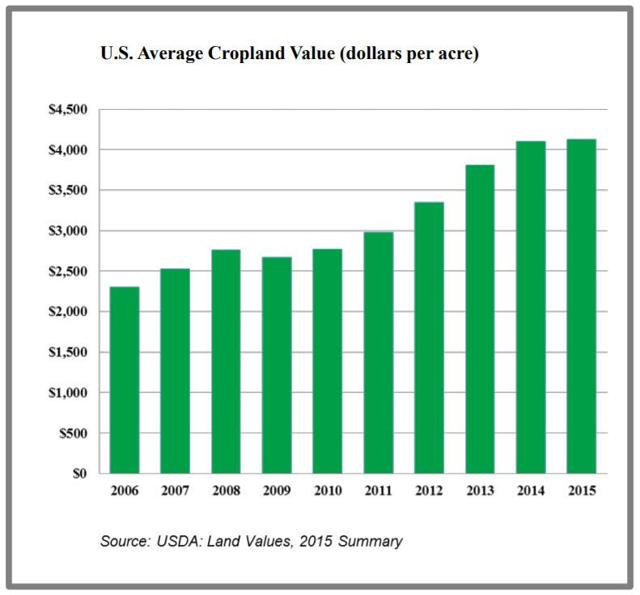 LAND acquires high-value farmland and farm-related facilities that it leases to high-quality farmers, primarily on a triple-net lease basis. The company seeks to acquire high-value cropland leased to high-quality farmers, by selecting farms by their type and location.
LAND's primary focus is acquiring land to be purchased and rented for annual (or more frequent) plantings to grow fresh fruits and vegetables. These crops are grown mostly in California, Florida and adjoining states.
Properties growing these crops are the most productive (in pounds per acre), most profitable and pay the highest rents. The crops are almost always consumed in the US and are rarely exported.
Management has extensive experience with these types of crops. Annually-planted fresh produce crops produce fruits and vegetables annually and include beans, blackberries, cabbage, cantaloupe, celery, lettuce, melons, peas, peppers, radicchio, raspberries, strawberries, sweet corn, tomatoes and other leaf produce.

Many of LAND's farms growing these crops are either already organic or are in the process of converting to organic. According to USDA, in this category of farms, there are approximately 3,000 top-tier farms in the U.S. worth $15 billion. Most of these farms are owned by individual families.
LAND has also been diversifying and purchasing farms that grow permanent plantings. For example, blueberries are grown on a bush that can be six feet tall. The blueberry bush begins producing blueberries several years after planting and will continue to produce blueberries each year, over a relatively long production season, for the next 10 to 20 years.
The reason these crops are called "permanent" is that they are not planted every year, as is the case with annually-planted crops – the planting occurs only once. The same is true for grape vines; fruit trees, such as oranges and apples; and nut trees, such as almonds and pistachios.

Permanent crops are grown from permanent plantings, such as bushes, trees and vines, and include almonds, apples, avocados, blueberries, cherries, figs, grapes, lemons, oranges, peaches, pears, pecans, pistachios, plums, walnuts and wine & table grapes. According to USDA, in this category of farms, there are approximately 7,000 top-tier farms in the U.S. worth $33 billion.
LAND owns only a limited amount of grain farms because management believes that the ability of grain farms to consistently produce crops at reasonable profits for the farmer (who is responsible for paying rent) is less desirable.
Owning large grain farms introduces a level of risk that is less acceptable to LAND (a key differentiator for FPI is the company's focus in row crops). Grain crops are called commodity crops, and commodities are traded on commodity exchanges around the world. However, there are a few exceptions to the risk profile of commodity crops, and, as such, Land has recently purchased a few grain farms.
But farmland of this type makes up a very small portion of the value of LAND's overall farmland portfolio. Commodity crops are in competition with crops from all over the world. For example, grains from the Ukraine are sold in the US.
When there is a bumper grain crop in foreign lands, the prices are pushed down throughout the world because grains can be shipped without much spoilage. Annually-planted commodity crops produce crops annually and include mostly grain crops, such as barley, beets, corn, cotton, rice, soybeans, sugar cane and wheat. Very little of this is organic, and over 90% of corn crops are GMO.

According to USDA, in this category of farms, there are approximately 23,000 top-tier farms in the U.S. worth $113 billion.
The Balance Sheet
During the first quarter, LAND's total assets increased by about $53 million or 16% mainly due to a new farm acquisition which was funded through a combination of new fixed-rate borrowings and a common stock offering.
During Q1-17 LAND incurred an additional $32 million of new long term borrowings at an average interest rate of 3.3% and these rates are fixed for the next 3 to 7 years.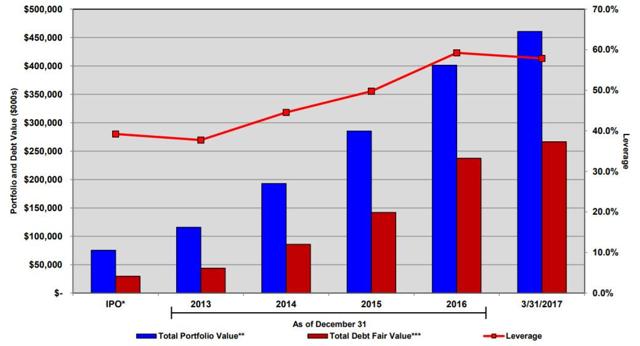 From an overall leverage standpoint, LAND's loan-to-value ratio was 58% as of Q1-17. The company said it is "comfortable at this level given the relative low risk of farmland as an overall asset class."
Over 90% of LAND's total borrowings is currently at fixed rates and on a weighted average basis, these rates are fixed for another 7 years out.

LAND's overall weighted average affective interest rate on borrowings is currently about 3.1%, down 10 bps from a year ago. Credit is readily available to LAND and only 1.2% of total debt is coming due this year.
LAND currently has about $26 million of available funds and current buying power for straight cash acquisitions is about $60 million (as of Q1-17). However, this figure does not factor in the company's ability to issue new OP units as consideration for purchases. LAND also recently expanded the sizes of its two largest borrowing facilities so there is plenty of room to continue borrowing and buying new farms.
The Latest Earnings Results
In Q1-17 LAND's net income was $173,000 or about $0.015 per share. LAND's operating revenues increased by 17% from last quarter, primarily due to recent acquisitions.
When compared to the same quarter last year, LAND's rental revenues on a same property basis increased by about 6%, due to the leases on certain of those properties being renewed at higher rates as well as additional income earned on capital improvements.
Unlike FPI, LAND is not seeing the widespread decline of rents seen in other regions of the U.S.
LAND's earnings from adjusted FFO for the quarter was $0.139 per share, representing the sixth consecutive quarter which the company covered its dividend.
In fact, LAND raised its dividend again to $0.0435 per share per month and over the past 28 months, the company raised the dividend 6 times resulting in an overall increase of 45% (in the monthly distribution rate). As David Gladstone, LAND's CEO explained,
Paying distributions to our shareholders is paramount to our business. And we're a dividend paying company and intend to be that way forever. We've projected good production of income growth for the rest of 2017.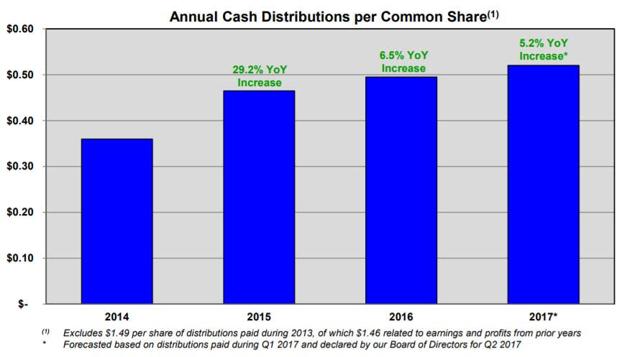 As mentioned in my recent FPI article,
FPI is not covering its dividend. This suggests that FPI deserves a higher risk rating as the dividend payout ratio is at 147% and the company is subjected to a cash flow shortfall of around $6 million annualized.

Unlike FPI, LAND's dividend is well-covered.
What About External Management?
As noted above, I am not a big fan of external management, but there is a case that can be made for the fact that LAND's management owns more than 24% of the common stock, meaning shareholders are investing along with management.
This gives shareholders extra assurance that LAND's management is looking out for its stockholders. Management has more than 100 combined years of industry experience.
Members of LAND's management team come from the farming areas and have ties to a wide network of farmers and farm brokers. They have a competitive advantage of being able to locate high-value farms for sale.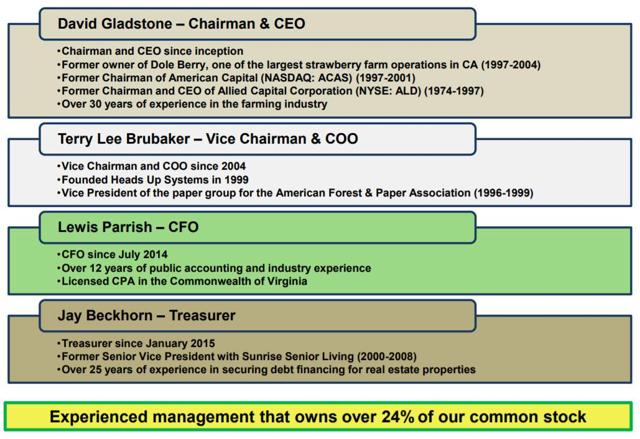 Warren Buffett once said,
I would rather own all the farmland in the US than all the gold in the world.
That's true, many investors look at farmland as gold with a coupon, as it is an active asset, whereas gold is a passive asset.
Should you own LAND?
Let's take a closer look at the dividend yield:

As you can see (above chart), FPI has a higher dividend yield, but that makes perfect sense since FPI is not covering its dividend and because of the riskier crop-based portfolio. Now let's examine the P/AFFO multiple:

Using this metric, you can see that LAND is actually cheaper than FPI.
Now let's consider this Net Asset Value (or NAV) model: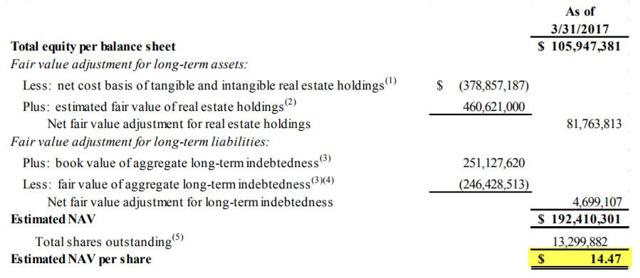 As you see, LAND's NAV is $14.47 per share and shares are currently trading at $11.70 (per share). This suggests that LAND is a BUY.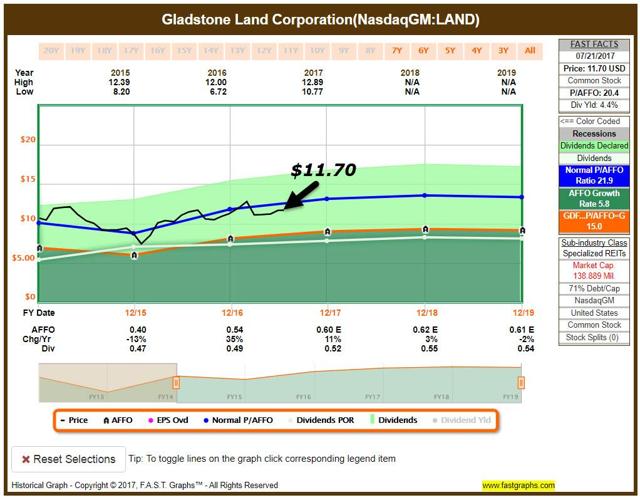 Before planting a seed in LAND, let's look at the forecasted earnings potential for the company:

As you see, LAND is projected to generate AFFO/share of around $.60 in 2017, or estimated year-over-year growth of 11%. Consensus estimates for 2018 and 2019 are not as robust, but the dividend should continue to grow, albeit modestly.
I would not expect 20% annualized returns with LAND, but I do believe that an investor can expect to generate stable MONTHLY dividends with modest price appreciation. The shares are trading slightly below Fair Value and I am initiating a BUY.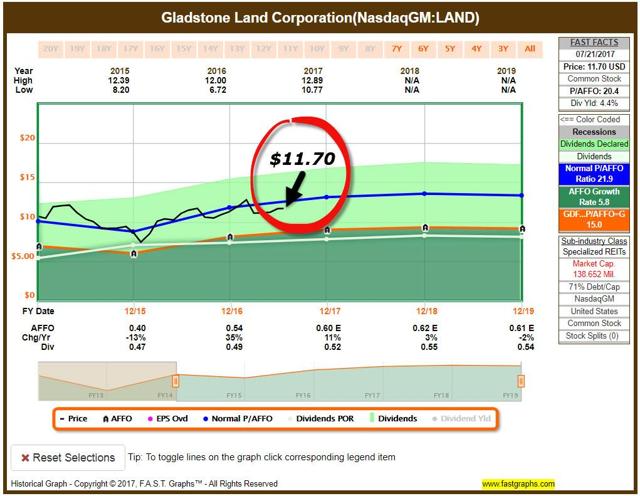 To learn more about my REIT Beat service, click here. For a limited time, I am providing new subscribers with an autographed copy of The Intelligent REIT Investor. This is a limited offer, so don't miss out!
Note: Brad Thomas is a Wall Street writer, and that means he is not always right with his predictions or recommendations. That also applies to his grammar. Please excuse any typos, and be assured that he will do his best to correct any errors, if they are overlooked.
Finally, this article is free, and the sole purpose for writing it is to assist with research while also providing a forum for second-level thinking. If you have not followed him, please take five seconds and click his name above (top of the page).
Disclosure: I am on the Advisory Board of NY Residential REIT, and I am also a shareholder and publisher on the Maven.
Disclosure: I am/we are long APTS, ARI, BRX, BXMT, CCI, CCP, CHCT, CLDT, CONE, CORR, CUBE, DLR, DOC, EXR, FPI, GMRE, GPT, HASI, HTA, IRM, JCAP, KIM, LADR, LTC, LXP, O, OHI, PEB, PK, QTS, ROIC, SKT, SNR, SPG, STAG, STOR, STWD, TCO, UBA, UNIT, VER, VTR, WPC.
I wrote this article myself, and it expresses my own opinions. I am not receiving compensation for it (other than from Seeking Alpha). I have no business relationship with any company whose stock is mentioned in this article.