Last year, MetLife (NYSE:MET) announced a plan to break up the company, mainly driven by strategic and regulatory reasons. The company said that it would re-brand its US retail business as Brighthouse Financial. The separation has been widely viewed as a long-term catalyst for MetLife as it should enhance the company's profitability levels and lower its cost of capital.
On October 5, MetLife officially confirmed its plans to initiate the separation of Brighthouse in the form of a spin-off. This hardly came as a surprise, given that an IPO or a sale to another large insurance company looked unlikely.
On June 29, MetLife published a press release, in which the company disclosed the details of the spin-off. According to the press release, MetLife's shareholders will receive one share of Brighthouse Financial common stock for every 11 shares of MetLife common stock they own as of the close of business on July 19. The shares of Brighthouse will be distributed on August 4 while regular trading is expected to start on August 7 under the ticker BHF. MetLife's shareholders are not required to take any action to participate in the distribution.
To estimate Brighthouse's implied market valuation, we are using a P/B-RoE approach. According to the company's information statement, following the separation, MetLife will retain no more than 19.9% of Brighthouse. Based on that and MetLife's outstanding shares, the company estimates that approximately 122,723,993 shares of Brighthouse will be issued, of which MetLife will own 24,422,074 shares.
MetLife disclosed that its net investment in Brighthouse, which is effectively book value of Brighthouse's equity, was $13.6bn as at March 31, 2017.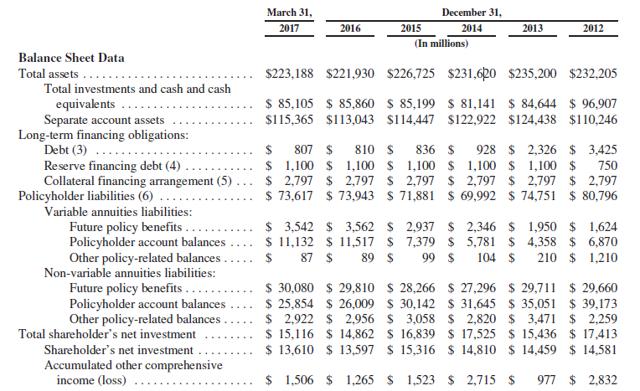 Source: Company data
It is important to note that Brighthouse Financial has recently issued $3bn of senior unsecured bonds. According to Fitch Ratings, the proceeds from the debt issuance will be used to pay a dividend to MetLife. As such, MetLife's net investment in its retail unit should be adjusted for the debt offering. That implies a book value of Brighthouse's equity of around $10.6bn. As a result, given a share count of 122,723,993, we estimate that a book value per share for Brighthouse is about $86.
Notably, MetLife also disclosed key financial targets of Brighthouse:
We intend to manage our businesses with a focus on statutory financial results in order to improve cash flow, allowing us to reinvest in our businesses and distribute cash to shareholders over time. We have established targets for select financial metrics that we believe best measure the execution of our business strategy and align with our shareholders' interests. It is our goal to achieve or surpass the following targets:

• Cash flow to shareholders: 50%-70%+ of operating earnings by approximately 2020;

• Growth in operating earnings per share ("Operating EPS"): Mid- to high- single digit annual growth;

• Operating return on equity ("Operating ROE"): Approximately 9%.
As such, to estimate a market implied multiple for Brighthouse, we can use its target of a 9% RoE. We run a regression analysis, using P/B multiples and RoEs of US life insurance companies. The regression chart below suggests that with a 9% RoE, Brighthouse's implied P/B multiple is around 0.85x.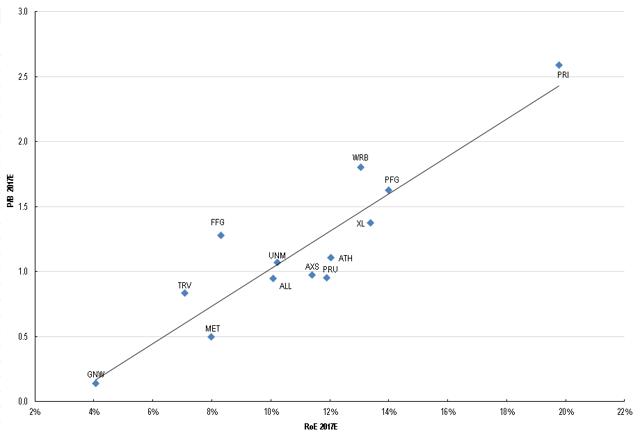 Source: Bloomberg, Renaissance Research
A P/B multiple of 0.85x and a book value per share of $86 suggest that Brighthouse's implied market valuation is around $73 per share.
Final thoughts
We believe our valuation analysis could serve as a good starting point for MetLife's shareholders, who will receive Brighthouse Financial's shares on August 4. Notably, MetLife has already launched a "when-issued" market in the shares under the symbol BHFWV.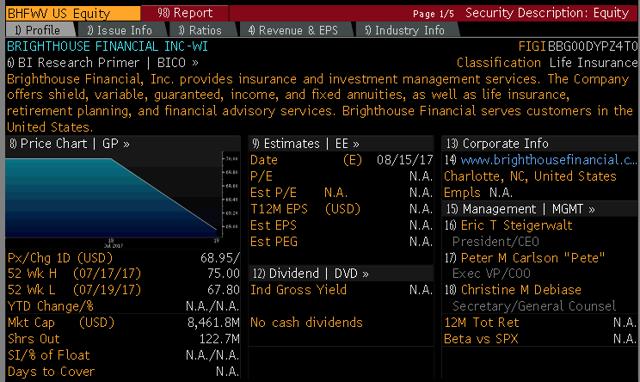 Source: Bloomberg,
BHFWV is currently trading at $68.95 and that suggests there is a 6% discount to Brighthouse's implied market valuation.
As a buy-side analyst and a deputy portfolio manager, I oversee a financials-focused fund and will be continuously providing research coverage on developments with MetLife and Brighthouse Financial. If you would like to receive our articles, consider following us by clicking the "Follow" button beside our name at the top of the page. Thank you for reading.
We also invite readers to check out our subscription service. Get in-depth fundamental research, stock recommendations, trading ideas, exclusive access to professional databases, sophisticated valuation models and expert commentary on Wall Street recommendation from a hedge-fund analyst with a proven track record. Go here to learn more; we look forward to having you on board.
Disclosure: I am/we are long MET.
I wrote this article myself, and it expresses my own opinions. I am not receiving compensation for it (other than from Seeking Alpha). I have no business relationship with any company whose stock is mentioned in this article.