In our sixth edition of Taking Stock with Tech, we're covering earnings themes for Q2'17. While tech earnings season is slow to kick off this week, some notable calls are scheduled from Netflix (NFLX), IBM (IBM) and Microsoft (MSFT).
As usual, we continue to cover broad tech sector themes, though we exclude extensive small-cap coverage.
Netflix expected to deliver above expectations in 2H'17
Going into Netflix's earnings report, there has been positive commentary pertaining to mobile downloads thus reasserting a heightened likelihood of 102 million to 104 million total paying subscribers even upon factoring prorations by the end of the current fiscal year.
Pricing mix could be supportive of back half trends, and while the content slate is unlikely to improve by much in Q3 and Q4'17, holiday seasonality likely contributes to better subscriber mix by the end of the year.
Consensus estimates of $2.76 billion and $0.16 dil. EPS for Q2'17 seem attainable if not beatable by a slight margin. Estimates for FY'17 slightly more back half weighted, though much of the impact can be measured by Q2'17 actuals. Current consensus estimates for FY'17 revenue and dil. EPS is $11.28 billion and $1.05, respectively.
Our view: We're less concerned by quarterly revenue/earnings trends. We've raised our FY'17 revenue/dil. EPS estimate to $11.33 billion and $1.19 dil. EPS from prior $10.9 billion/$1.13 dil. EPS. We think Netflix can beat consensus revenue estimates though by a very narrow margin, which likely surfaces in the Q3'17 outlook figure.
We have published a more in-depth report to our premium subscribers. We've raised out price target to $194 from our prior price target of $153, and re-rate the stock from hold to high conviction buy.
IBM can it return to respectability?
While IBM isn't expected to deliver much in the way of sales growth, it's worth noting the bleak Q1'17 figures are expected to inflect higher on more normalized IT spending trends, which contributes (partially) to q/q strength in either Q3'17 or Q4'17 revenue/earnings.
Analysts expect IBM to report sales/dil. EPS of $19.47 billion and $2.75, respectively, for Q2'17. Dil. EPS is expected to improve on modest operating leverage from reduced SG&A ramp.
While IBM trades at a cheap valuation, it's worth noting that the most optimistic scenario for the next couple years is a pattern of topline stability driven by product segmentation mix and diminished system hardware/consulting mix. The improvement to top line likely takes longer to materialize as cloud platforms don't fully offset hardware in terms of front-end revenue recognition. So, transitioning away from industry standard servers (low margins) to higher margin datacenter leases makes sense though infrastructure cloud remains heavily competitive.
We think the emphasis on IBM's core platform makes sense as entrenched competitors can simply lean on the value proposition of staying wedded to a pre-existing platform without needing to go through the hassle of migrating workloads to different database architecture or hybrid configurations that are more inclusive of AWS or Azure.
However, IBM's offerings either aren't diverse enough nor technically comprehensive enough to keep pace with competitors. Its IT infrastructure as a suite is more expensive and not better than its competitors when assorting similar services.
IBM has spent much of the past decade conceding territory to Amazon (AMZN) or Microsoft (MSFT) in terms of middleware and hardware. The scope of gains from its emerging business platform isn't geared toward new workload growth. When faced with a new breed of software/app start-ups that launch away from IBM's platform, there's been little in the way of customer acquisition. This basically ignores successful web/mobile app launches not wedded to conventional IT, but it's this emerging category that has contributed to IaaS growth.
IBM has focused on retention of pre-existing customers precisely because it cannot anticipate the success of mobile apps. It's not app-centric, nor has it been a category leader for mobile workload deployments either. It has ignored consumer apps, whereas professional apps have transitioned to a licensed subscription model, so there's not much of an opportunity in selling new software especially when software companies are bundling more features into an existing subscription stack.
This then leaves IBM to design custom software on its platform stack. They typically work on technical implementation of ideas, and often the value derived from consulting is unquantifiable. There's a lot of engineering talent at IBM, but it's not the idea capital of the world, and hoping to re-create a platform wide effect like Amazon is unlikely. We're expecting IBM's management to sustain status quo, but nothing transformative for the foreseeable future.
Hardware model by device

Source: Nomura Instinet
Device shipments are expected to moderate across all categories for the foreseeable three years. Though these trends are well understood, recent PC supply chain data suggests a less severe scenario for PCs.
Furthermore, smartphone shipment growth likely moderates as we're quickly approaching a mobile installed base of 5-6 billion over the forecast period. Tablets have declined in relevance, whereas hardware accessories like VR have yet to take off. In the end, we're not left with much in conventional consumer hardware, though we like certain pockets of opportunities among internet, semiconductor and web-based services.
Buying direct from Hotels or from Online Travel Agencies?
Piper Jaffray recently compiled data on hotel pricing from buying directly, as opposed to buying via online travel agencies.

Source: Piper Jaffray
The pricing data suggests that OTAs (online travel agencies) are cheaper by 4.2% on average when compared to online listings from established hotel chain operators. The direct route offered a 3.8% discount on average (in the instances where it's cheaper). Overall, there's not much of a pricing discrepancy between OTAs and hotel-direct.
Sites like Priceline.com (PCLN) and Expedia (EXPE) are somewhat reliant on this pricing model, so the lack of direct price competition is a slight positive. Though, it's not surprising, as hotel operators would prefer filling rooms even if pricing suffers. Occupancy is a bigger factor to breakeven than average room rates.
Growth investments take off this week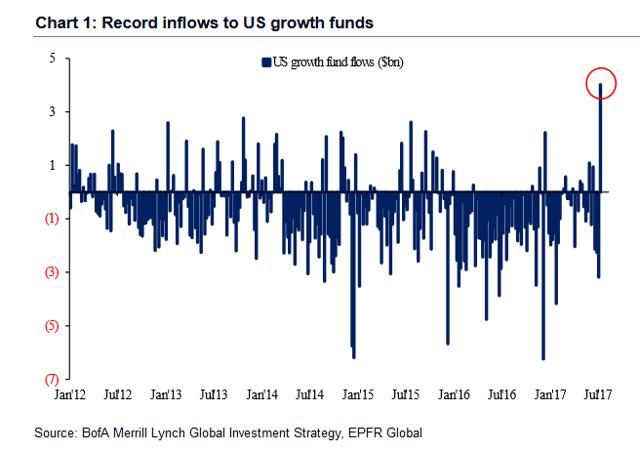 Source: BofAML
Investors have quickly pivoted back into US growth funds, which suggests a re-up of the prior momentum trade. Tech valuations are likely responsive to this trend, though we're skeptical of the duration of the current market rally despite positive Fed commentary earlier last week.
While participating in the rally makes sense, it's hard to approach tech valuations without corresponding hedges. Investors are bidding on earnings momentum, though the scope of earnings revisions among S&P 500 constituents may not justify appreciation absent of multiple expansion in the interim. It's not the most attractive equity environment, though it's just good enough to keep confidence from dipping any lower.
Cho's Investment Research is SA's premier research package that gives investors and traders an additional edge when investing into companies. It's a trade publication, research service and an idea generator. This service comes at a low annual subscription cost of $40/month.
For more information click here.
Disclosure: I/we have no positions in any stocks mentioned, and no plans to initiate any positions within the next 72 hours.
I wrote this article myself, and it expresses my own opinions. I am not receiving compensation for it (other than from Seeking Alpha). I have no business relationship with any company whose stock is mentioned in this article.