Ford Motors (NYSE:F) has had a rough couple of years (and it still likely has some headwinds to deal with in the near future), but it's juicy 5% dividend yield has value-focused dividend vultures circling overhead (me included).
When looking at the chart below, its hard to tell whether or not Ford is a "value trap" or a value treat.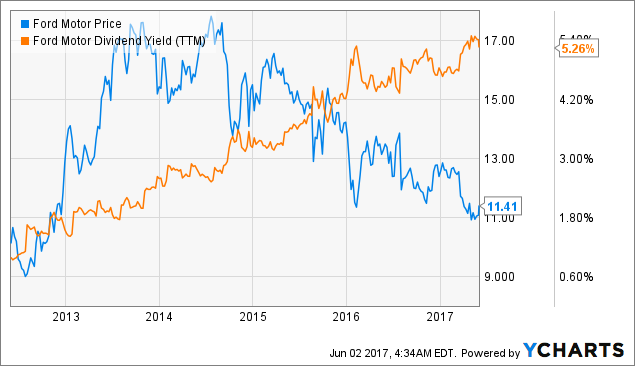 The dividend yield is certainly getting hard to pass up, but the big question remains: How much downside is left?
I generally have a value bias when it comes to investing as I like buying good companies and reasonable prices. So I am often faced with this "value trap" dilemma.
Here's the backdrop from my perspective, but first a little detail about how we analyze companies.
Rankings and Buy Zones
We use a combination of fundamental and technical analysis to determine which stocks to buy and when to buy them. For dividend stocks in particular, we have a proprietary rating system that ranks over 500 U.S. dividend stocks on a weekly basis. Our Parsimony Rankings range from 1 (lowest) to 10 (highest). These rankings can also be thought of as percentile rankings (i.e., if a stock has a ranking of 10, it is in the top 10 percentile of all stocks in our universe for that particular ranking).
Our rankings are derived by ranking each stock based on 30 key fundamental and technical data points across four rating categories:
Dividend – Measures the stock's historical dividend stability and growth and the company's ability to continue to make (or raise) its current dividend (e.g., current yield, consecutive years with dividend increases, dividend growth rates, payout ratio).
Safety – Measures the stock's overall financial health (e.g., sales, EPS, and cash flow growth, ROC, leverage, historical volatility, beta). All else being equal, companies with stable revenues, earnings and cash flow and strong balance sheets tend to be safer investments with more stable dividend growth.
Value – Measures the stock's relative valuation compared to historical trading levels (e.g., P/Sales, P/E, P/B, EV/EBITDA, shareholder yield). We use multiple valuation metrics to derive our Value rating as multi-factor models have proven to be better indicators of long-term value than single-factor models.
Momentum – Measures the strength of the stock's trend (e.g., 6-month and 12-month relative strength, moving average trends, industry relative strength). Stocks that outperform tend to continue to outperform.
This rating system helps us to quickly screen for great stocks (i.e., stocks with high Dividend, Safety and Value ratings). We encourage investors to come up with the own strategy for stock screening that best suites them.
Then, we scan the charts of our top-rated stocks daily looking for strong levels of support and resistance, which ultimately helps us determine a target "Buy Zone" for each stock. We believe that patiently waiting for a low-risk entry point for a given stock will drastically improve your long-term investment results. We focus on four key levels of support when determining a "Buy Zone":
Technical – Support from short and long-term trend lines
Volatility – Target correction levels based on historical volatility and draw down
Valuation – Support levels based on historical valuation multiples
Yield – Support levels based on forward dividend yield
Again, this isn't rocket science and we encourage investors to find their own way of determining a "Buy Zone" for each stock. The key here is establishing a price range at which you would feel comfortable buying the stock (i.e., a range of fair value).
Ford Analysis
We currently have a "Buy" Action Rating on Ford and the stock is currently trading in our Buy Zone of $11.00-$12.00 (which is our reasonable fair value range for a long-term entry point derived from the support levels we discussed above).

Source: Dividend Investors Club/Parsimony Investment Research
As you can see, Ford has a very high Value rating of 9 (which is no surprise). The stock is currently trading for only 7.4x FY2017 forward consensus earnings of $1.54, which represents about a 20% discount to its 5 year historical avg. P/E ratio.
That said, Ford has very low Safety and Momentum ratings which causes some concern.
As you can see from the charts below, Ford's sales and earnings tend to be quite cyclical.

Source: S&P Capital IQ/Parsimony Investment Research
Low Momentum in itself is not a deal killer (as most value stocks tend to be beaten down). But the combination of low Safety (which measures the stock's overall financial health and operating trends) and low Momentum can sometimes be a recipe for disaster.
In a situation like this, I do my best to try to figure out if the bleeding has stopped and whether or not the company is back on the right track. Unfortunately, this isn't always easy to decipher.
We all know that the auto industry has been struggling for years (even though Tesla (NASDAQ:TSLA) can do no wrong), but Trump's initiatives to drive economic growth could be just the lifeboat that the industry needs right now.
It's way too early to call a bottom or a complete turnaround, but I do like what I saw from Ford's May sales report.
For one, the company saw positive overall growth (up 2.2%), which was nice to see after April's abysmal 7.2% decline. In addition, Ford was excelling in the right areas. Truck and SUV sales were up 9.4% and 4.3%, respectively in May.
If these trends continue, we should see some improvement in our Safety and Momentum ratings.
The other positive thing I have seen out of Ford recently is a leadership shake-up, including the elevation of Jim Hackett to CEO (replacing Mark Fields). Changes in leadership often precede sustainable turnarounds.
With all that said, there could still be some downside volatility to come if June (or Q2) sales and earnings disappoint. And quite frankly it could take years for the stock to recover meaningfully from here.
This is a perfect situation for a cash-secured put strategy in my opinion, as it offers some downside protection if Ford proves to in fact be a "value trap."
Cash-Secured Put Strategy
I love using a cash-secured put strategy on stocks that I think have limited near-term upside where downside risk remains.
This strategy allows investors to generate income while mitigating downside price risk. Cash-secured puts essentially act as a limit order for dividend stocks you want to add to your portfolio (but you get paid to put the order in).
If you sell a put, you have an obligation to purchase the stock at a predetermined price (strike price) on or before the expiration date (if the buyer of the put option wants to sell you the stock). Clearly, the risk is that the stock drops significantly below the strike and you are forced to buy the stock at a price well above market.
Here are our two risk management rules of put selling:
Only sell put options on stocks that you want to own at the price you want to own them – With a put selling income strategy (focused on out-of-the-money puts), you get paid to wait for the price you want on a stock. If the price never drops to your strike, you get to keep the premium (income) as a consolation prize. Your downside is owning the stock at the strike price (keep that in mind as you analyze the ideas below).
Don't sell "naked" – Just because options offer you leverage, it doesn't mean that you have to use the leverage. We recommend securing your short put position with cash (i.e., don't sell on margin). If you aren't willing to risk the cash to back it up … don't sell the put!
The two main things to focus on when considering a cash-secured put opportunity are Premium Yield and Margin of Safety.
Premium Yield (%) – The premium yield is the expected return on capital assuming that the option expires worthless (out-of-the-money). We try to target an average monthly premium yield of 0.5%-1.5%.
Premium Yield % = option premium / (strike price – premium)
Margin of Safety (%) – Margin of safety is the percentage that the underlying stock could decline that would still allow you to break-even on the option trade. We try to target a margin of safety of at least 5%.
Margin of Safety % = (stock price – break-even price) / current stock price
Note that there is always a negative correlation between Premium Yield and Margin of Safety: The higher the Premium Yield for a given strike month, the lower the Margin of Safety.
Choosing the Right Strike
Choosing the right strike price in a put selling strategy, like any investment decision, comes down to risk and reward. All else being equal, as your margin of safety (your cushion between the current stock price and your strike price) decreases, your premium yield increases (because the risk that your option will be exercised increases).
Ideally, we like to choose a strike price where the break-even price of the option trade will be close to or in our "Buy Zone" for that stock. In addition, we prefer utilizing options with expiration dates that are at least 2-3 months out to reduce trading costs. Note that the annualized option premium yield can oftentimes be approximately equal to the dividend yield on the stock. So you can essentially generate the same income without the downside risk.
Let's look at some put options for Ford: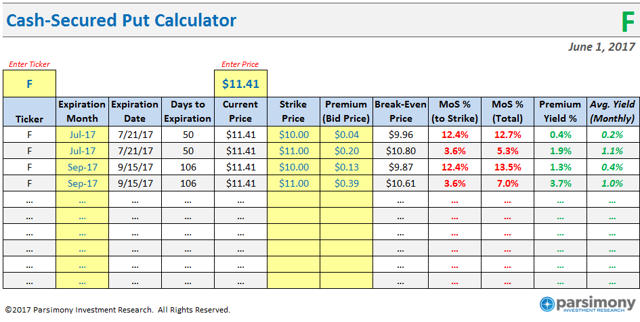 We rarely consider short-term options (less than 30 days until maturity), so we would be focused on the July and Sept. strike months for Ford.
Since the $10.00 strikes do not meet our minimum yield hurdles, we would strongly consider the Jul and Sept. $11.00 strikes. Both offer an average monthly yield over 1%. Although the margin of safety is on the lower end of what we look for, it gives us comfort that the stock is already in the Buy Zone. Choosing between strike months would just be preference.
As you can see, the cash-secured put strategy is great alternative for potential "value trap" stocks like Ford as it offers a nice balance of yield and margin of safety.
If you would like to learn more about how we utilize cash-secured puts (as well as covered calls) in our dividend portfolio, please consider enrolling in our new Triple Income Formula Course.
Disclosure: I/we have no positions in any stocks mentioned, but may initiate a long position in F over the next 72 hours.
I wrote this article myself, and it expresses my own opinions. I am not receiving compensation for it (other than from Seeking Alpha). I have no business relationship with any company whose stock is mentioned in this article.