There are two old adages about horses.
One is something about how you shouldn't beat them once they've moved on to that big pasture in the sky, and the other is something about leading them to water but not being able to convince them they should drink it.
Both apply this week with regard to me, you, and the oil market.
For months – since the OPEC supply cut deal to be exact – I've argued that this is the simplest market in the world to understand.
I've lampooned the media for suggesting that $55/bbl is conducive to US shale (David) slingshotting Goliath (OPEC).
I've explained in great detail how wide open capital markets and the central bank-inspired hunt for yield create zombie operators in the US.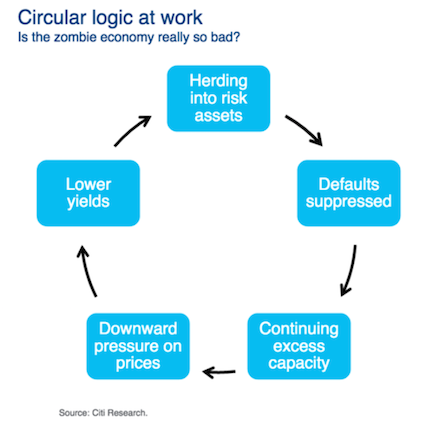 (Chart: Citi)
I've detailed how US operators seemingly haven't learned anything from the last downturn. See, diluting people to plug funding gaps created by an outspend habit the industry steadfastly refuses to kick isn't a sustainable business model. It creates an M.C. Escher-ish stairway to nowhere.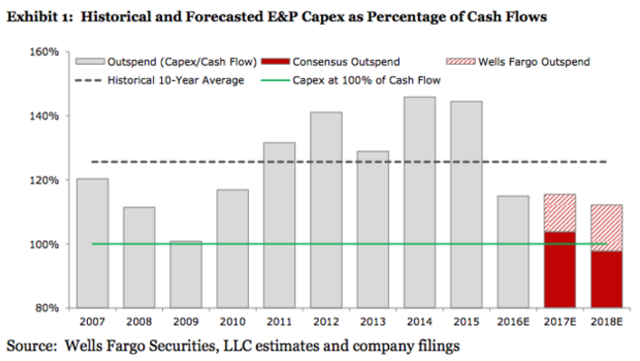 (Chart: Wells Fargo)
I've suggested that the slew of equity offerings from US energy companies in January was proof that there truly is a sucker born every minute.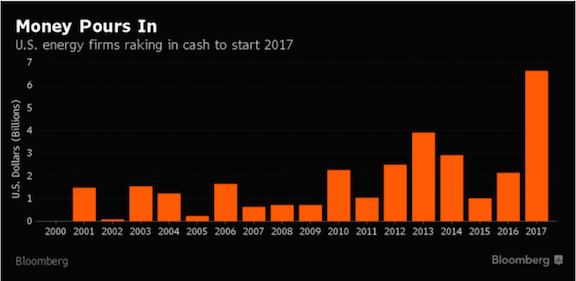 (Chart: Bloomberg)
And I've even questioned the whole idea of OPEC "cuts", noting that because OPEC and non-OPEC producers ramped up production in the two months before the agreement, the "cuts" actually added 1 million bbl/day to the market.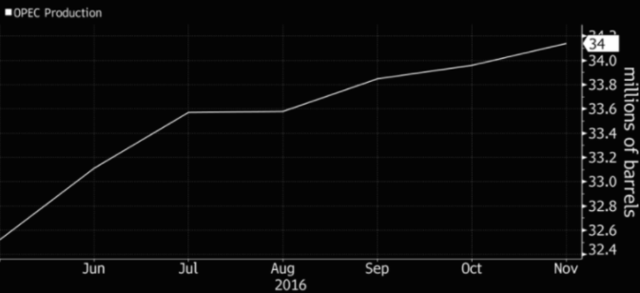 (Chart: Bloomberg)
And I've explained that it makes absolutely no sense for HY energy to trade inside of HY as a whole…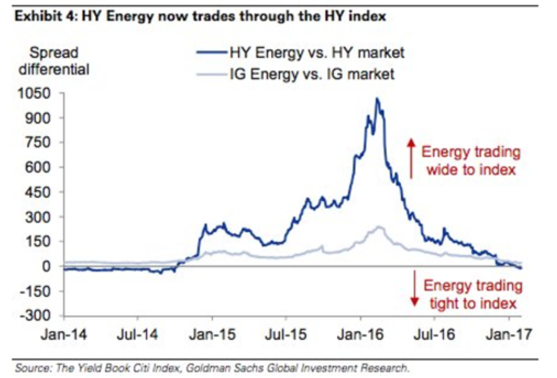 (Chart: Goldman)
…and even less sense for HY energy to trade at levels last seen when oil was near $80/bbl.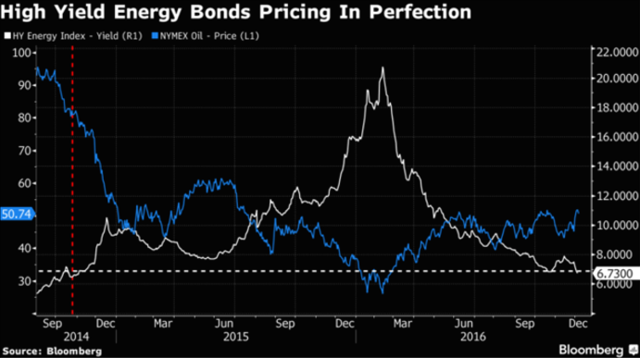 (Chart: Bloomberg)
Finally, I've laughed heartily as bearish API print after bearish API print is subsequently confirmed by similarly bearish EIA print after bearish EIA print and as each passing Baker Hughes report shows rig count rising week after week.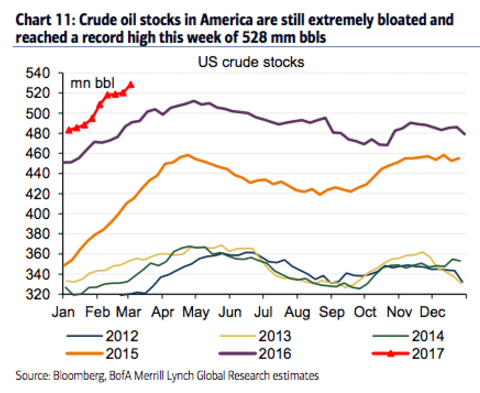 (Chart: BofAML)
And yet the narrative persisted – in these pages, in analyst notes, and in the media more broadly. Here's that narrative in a nutshell: "Soon, voracious global demand is going to overtake supply and the market will balance. Plus, there are always worries that production will be curtailed in Libya and compliance with the OPEC cuts is running at an astounding 94%."
Let me show you what I'm talking about (and these are just a few selected examples):
Here's one:

Here's another one:

And another one:

And another one: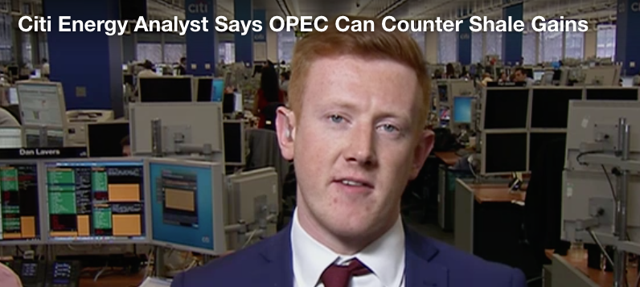 And another one:

(full detail on that note here)
And another one:

(full details on that note here)
You get the idea.
Well, guess what? Oil collapsed this week.
And the best thing about it is, the crude (NYSEARCA:USO) carnage was so pronounced, there's no way the editors here can objectively say that bombast isn't both applicable and wholly appropriate. So I can use all the hyperbole I want. Why? Because this:

Collapse. Plunge. Off a cliff. Chaos. Bursting balloons. Hide the children. Lock the doors.
"It felt a bit like a balloon popping," Michael Poulsen, an analyst at Global Risk Management, said. "It's never a one-way direction. There's usually a breather."
Yes, "usually." But not this time, Michael.
The decline was so steep, we took out $49 and erased the entirety of the post-OPEC-cut gains:

The steep decline also sent the options market into a veritable frenzy, as volumes surged: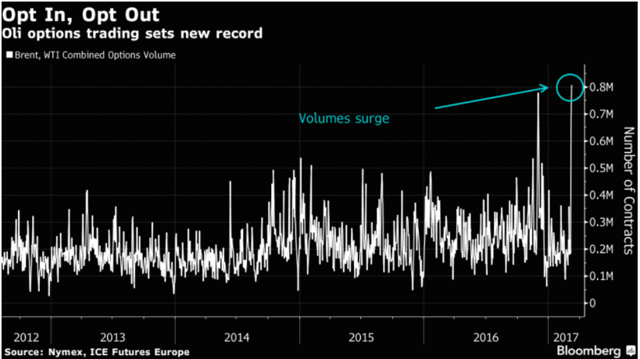 (Chart: Bloomberg)
And remember that record net spec long position? You know, the one that amounted to a billion barrel bullish bet? Yeah, well, some folks got hosed: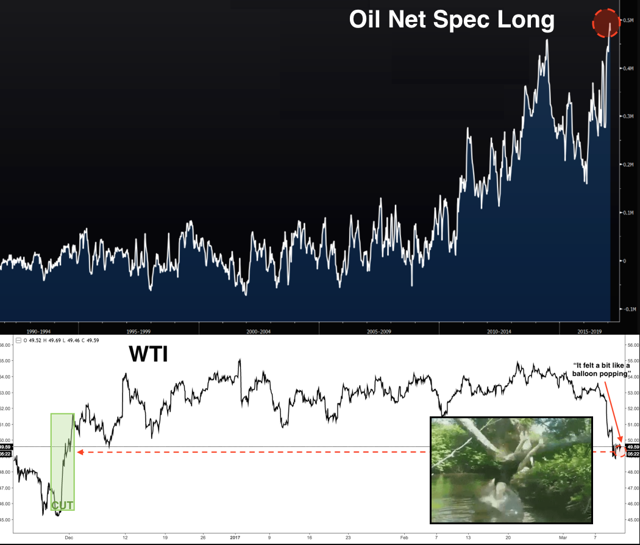 And the thing that made this all the more hilarious is that it unfolded during CERAweek, the annual international oil and gas conference hosted in Houston where pretty much everyone expected the industry's biggest players to jawbone the market higher.
So, the logical next question is this: "ok, I get it Heisenberg, but is there a bull thesis?"
Well, yes. And here it is courtesy of an admittedly good BofAML note out Friday evening:
Oil prices have tumbled in recent days as record US crude inventories have clashed with record non-commercial oil net length of 557 thousand contracts. Still, while US crude stocks are high, total OECD oil stocks dropped by 115mn bbls on a net basis in 2H2016 before OPEC cut production. Given our expectations of a global deficit of 575 thousand b/d this year we expect a further 210 mn bbl total draw in 2017. With demand soaring, the shift from a highly overstocked market to a meaningfully undersupplied one could happen pretty quickly if our global oil supply-demand balances are correct. As we stated earlier, there is a petroleum product dimension to the ongoing oil market rebalancing that is already paving the way forward. And with global oil demand soaring, this shift could happen very quickly. The key to the rebalancing of global oil markets is a surge in US oil exports, in our opinion, as it will help clean up the large North American surplus. The ramp up is already underway.
Fair enough, but for the time being, this market is in free fall.
In closing, I want to draw your attention to something that I think is pretty important when it comes to reading Heisenberg. I get a fair amount of criticism with regard to the idea that my posts aren't "actionable." The first thing to note there is that just because you don't have the access or the wherewithal to trade the ideas presented doesn't mean they aren't actionable. That's like a 14-year-old saying the roads aren't "drivable" because he/she isn't old enough to drive yet.
But aside from that, there are plenty of "actionable" ideas in my posts. Here's an example that's particularly apt given everything said above. Below is what I said on February 9. That's February 9, 2017. Time stamp it.
In a sign of the times, a fracking company was the first US IPO in 2017, as Keane Group (NYSE:FRAC), a Houston-based provider, raised $508.4 million on January 20.

The ticker: FRAC. No, seriously:

"The public equity markets are looking to invest in pure-play completion companies with a footprint and a growth story," Keane's CEO James Stewart told Bloomberg in a phone interview after the IPO.

I mean, come on folks. Are people really this gullible?
Well, here's what FRAC has done since then:

Drops mic, goes to the beach.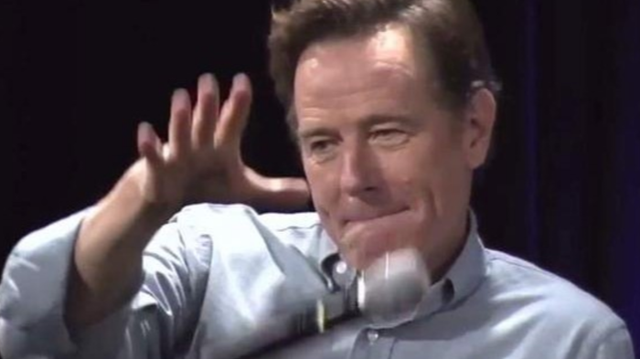 Disclosure: I/we have no positions in any stocks mentioned, and no plans to initiate any positions within the next 72 hours.
I wrote this article myself, and it expresses my own opinions. I am not receiving compensation for it (other than from Seeking Alpha). I have no business relationship with any company whose stock is mentioned in this article.