Investment Thesis
For years Facebook (NASDAQ:FB) has seen its share price increase. Therefore, I had wrongly assumed that because it is in the public eye and having personally seen its share price increase, what seems like every month for the past several years, it was overvalued. I was surprised that my findings actually showed me that Facebook was still slightly undervalued.
This article offers a business overview of Facebook, followed by its financials, valuation and potential investment risks.
Business Overview
As of 2017 Q1 the company's revenue from advertisement jumped a staggering 51% (I have not included payments and other fees as these amount to negligible amounts which detract from the article's main thesis).
The company continues to grow its monthly active users (MAU) by 17% YoY. As of 2017 Q1 approximately a quarter of the world's population uses Facebook. This offers the company superb network effects, where users log in to see what their friends are doing and update their status.
Along the way, Facebook continues to very successfully monetize its user base through advertising. In fact, the most recent quarter (2017 Q1), a total of 85% of its consolidated revenue is derived from mobile advertising revenue, as users access the site while on the go.
Facebook continues its priority to continuously grow its revenue by helping business expand their use of mobile products. I find that Facebook's overseas opportunity will be particularly large in the next 3-5 years. Particularly in the context that approximately just 55% of Facebook's 2017 Q1 consolidated revenue came from outside the U.S. With Europe alone having twice the population of U.S. I find that its overseas opportunity is large indeed. In most technological developments, Europe lags the U.S., which means that Facebook's ability to monetize its user base outside the U.S. could grow meaningfully over the next 3-5 years.
U.S. Revenue vs. Europe

Source: 2017 Q1, 10q
While the company does not break down its U.S. revenue alone (Canada is grouped in together with the U.S., however, Canada's population is approximately 10% of the U.S. population), the above table nevertheless reinforces the point that Facebook's monetization of Europe, which is twice the size of the U.S., is not particularly strong as of yet. However, in time, this "monetization gap" will most likely narrow.
Financials

Source: morningstar.com; author's calculations
These financials are impeccable and speak for themselves. Facebook has great returns on invested capital (highlighted green), great margins and superb growth with a CAGR on its revenue of 49% over the past five years.
Financial Position
As of 31 March 2017, Facebook only has 23% ($7.5B) of its cash held overseas. Which puts it in a much stronger position than other multi-national companies, such as Apple (NASDAQ:AAPL), which have more cash overseas than domestically. Including in its overseas cash, the company has a rock solid cash position of $32B. This is worth repeating – shareholders hold an asset light, fast-growing company which is also debt free.
Valuation Relative to Itself and Peer Group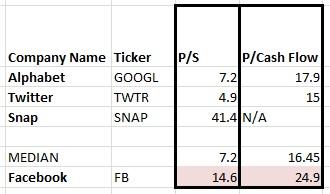 Followers of mine will recognize that I have not compared each company's stock against their respective trailing five-year average. The reason being that some of these companies have been trading for a shorter period of time and so that data is not available.
On the face of it, it appears that relative to its peer group, Facebook is trading more expensively than its peers, but this type of analysis misses Facebook's actual potential, which I find that a DCF analysis more closely approximates its true valuation potential.
DCF Analysis
My rough DCF analysis assumes that Facebook's near-term growth might slow down over the next five years, from 49% CAGR over the past five years to only 15% over the next five years. It then assumes its growth will level off at 6%. I have discounted this cash flow back at 8%. An 8% discount rate is entirely realistic, if one takes into account that Facebook has a debt free position with approximately 7% of its market cap equaling its cash on the balance sheet. This brings Facebook's valuation to $558B or at least 20% upside potential using the most conservative scenario.
Investment Risk
No investment is without risk. Facebook's primary risk comes from Google (NASDAQ:GOOG) (NASDAQ:GOOGL). Google has an extremely efficient platform for advertising which might be more relevant to certain businesses. For instance, Google's advertising capabilities within search might be perceived to offer a superior value proposition to businesses which have a need for customized advertising. In the event that Facebook's level of engagement with users were to come under threat from competing business, advertisers might reduce the amount they spend advertising on Facebook and rely more on competitors, such as Google. This would cause Facebook to lose market share in advertising, a segment it derives 95% of its consolidated revenue and with it, the multiples which the stock currently trades at might compress.
Over time, users could become more aware of the dangers that social media pose to having a focused and accomplished life. Users could migrate away from time consuming and distracting websites, such as Facebook, towards more tailored online sites which offer professionals more relevant information in their particular passions. An example could be Seeking Alpha (of course, others exist), where users find information which is more pertinent to their hobbies and professions.
Conclusion
In spite of a superficial analysis which points to Facebook trading at a large multiple to earnings and cash flow, thorough research and a more thorough understanding of the business' key economic drivers, I was somewhat surprised that as a value investor for me to be saying that Facebook is trading at a discount of at least 20%. And investors which are truly patient and willing to invest now and wait a for few years for their investment to grow might be pleasantly surprised to find that at this moment Facebook is not trading particularly expensively, especially when its grown so much already and is hardly an unknown business.
Nevertheless, when all is said an done, I ultimately found that an investment Alphabet, which I discuss here, to have more upside potential and less risk than investing in Facebook, as Alphabet is more diversified in terms of advertising revenues, hardware and software businesses.
Please do your own due diligence to reach your own conclusions. If you have enjoyed reading this article, please click "Follow" to get more articles of mine in real time.
Disclosure: I/we have no positions in any stocks mentioned, and no plans to initiate any positions within the next 72 hours.
I wrote this article myself, and it expresses my own opinions. I am not receiving compensation for it (other than from Seeking Alpha). I have no business relationship with any company whose stock is mentioned in this article.