Firm's Outlook
Domino's Pizza, Inc. (NYSE:DPZ) has shown strong competitive advantages, including its own supply chain and product manufacturing, solid brand name, high-rated app, willingness to face mistakes and other successfully developed marketing strategies. These have led the company to achieve high market share, with 27% in the US delivery market and 15% in the QRS pizza market, competing with other major pizza restaurants with shares of about 29% and 32%, respectively. The remaining stakes correspond to small chains and independents.
These advantages have led the firm to deliver a much faster growth during the last 3 years, increasing its ability to expand in market share with an 11.12% average revenue growth. The firm's most updated revenues have been driven by the supply chain segment, which represents 64% of total revenues. Franchise royalties have also caused positive impact on revenues due to a 75% growth in stores during the past 6 years.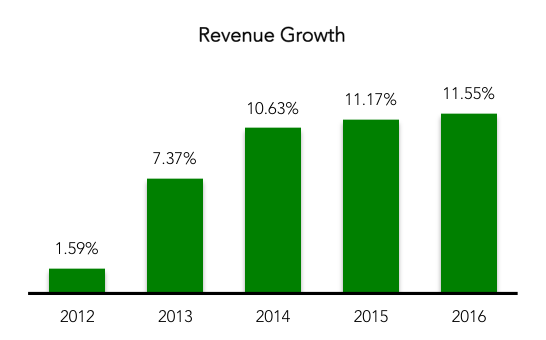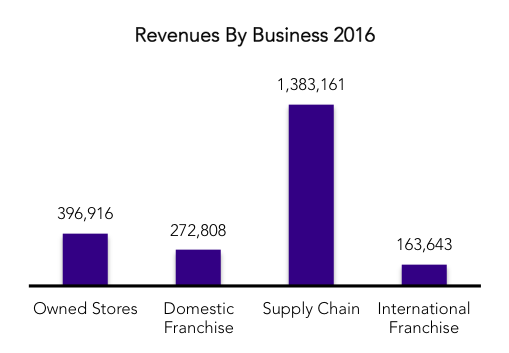 (Source: SEC Edgar Annual Reports, Author's graphs)
With a bullish revenue trend and a stable cost structure, Domino's has managed to increase its operating margin from ~17% to 18.36% in the last 3 years. When we look at the sector, it is no surprise to see Domino's with one of the highest ratios (US Industry operating margin average ~13%), considering its strong competitive advantages. The firm is only surpassed by industry's tall firms such as McDonald's Corporation (NYSE:MCD), which has a remarkable 31% margin. It is important to mention that Domino's Pizza's operating margin growth seems to have stopped. We expect the indicator to remain stable for the following years and for other major competitors to watch their margins decrease.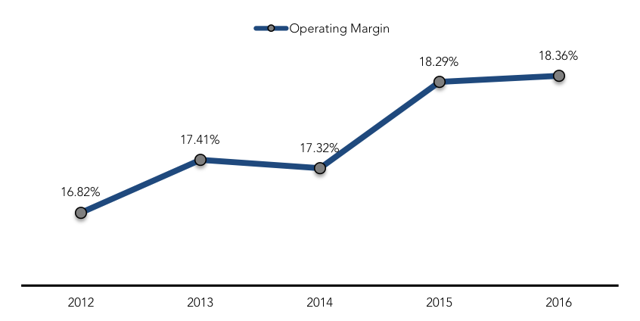 (Source: SEC Edgar Annual Reports, Author's graph)
Wall Street is currently full of controversies regarding cash giveaway from the firm. To explain better, we raise an important fundamental question: How much Domino's Pizza can really afford to pay in dividends and buybacks? The answer is usually "the firm's earning amount." However, in this case, the total cash given to stockholders is a considerably higher amount when compared to the firm's earnings.
Domino's has a currently fixed strategy of giving cash to stockholders, not only through dividends but also through buybacks. In fact, the company delivers more cash through stock buybacks than through dividend payout. As said before, it gives away more cash than what it can afford, a fact that makes the high level of leverage more rational. Then, how is it possible for Domino's to deliver this amount of cash?

(Source: SEC Edgar Annual Reports, Author's graph)
The company has shrunk its balance sheet into debt in order to face its capital needs (not currently substantial, reinvestment rate ~14%), dividend payout and stock repurchase program. Indebtedness has caused the firm's high leverage, which is still not unhealthy, taking into account that the firm's current ratio is 1.23x. Repayment capacity ratios have also increased in the last year and positioned above 1x since 2012 except for TDRC (FY2015 TDRC: 0.89x | SSDRC: 1.23x | FCCR: 1.05x VS. FY2016 TDRC: 0.91x | SSDRC: 1.32x | FCCR: 1.20x). On the other hand, the Total Debt/EBITDA ratio has decreased from 5.11x (2012) to 4.45x (2016). Year 2015 shows an important negative impact in debt ratios that could perfectly be explained by high stock repurchase, which consequently called for a higher debt requirement.
*Note: TDRC (Total Debt Repayment Capacity) measures a firm's capacity to pay short-term debt and part of long-term debt of the firm. SSDRC (Senior Secured Debt Repayment) measures the same as TDRC but including senior secured debt. FCCR (Fixed Charge Capacity Repayment) measures a firm's capacity to honor short-term debt, current portion of long-term debt and fixed cash charges.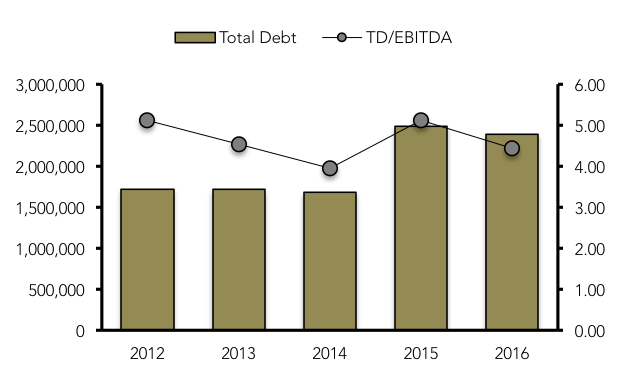 (Source: SEC Edgar Annual Reports, Author's graph)
When comparing the company's cash giveaway with free cash flows to equity, evidence is served to describe how Domino's Pizza is currently giving away to stockholders non-affordable amounts of cash. This strategy can't be preserved in the long term, especially because the firm must take, as a priority, to satisfy its capital needs in order to maintain growth and keep playing a leadership role in the industry.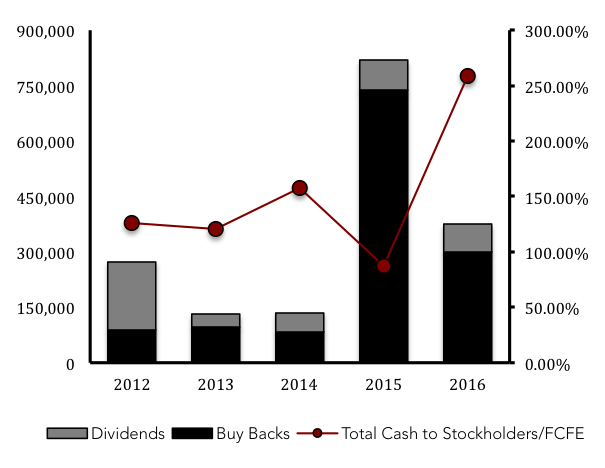 (Source: SEC Edgar Annual Reports, Author's graphs)
One final point to highlight is the firm's capital efficiency, which has averaged 6.48x in the past 5 years, surpassing the industry ratio by 5.09x. This means that the company is making 6.48 dollars of revenues for every dollar invested. We believe that this situation is a consequence of the firm's franchise business model and its life cycle's current stage. This situation also decreases capital needs for the company, letting it pay higher yields to stockholders. Due to high stock repurchase and little reinvestment needs, Domino's is able to generate really good exceed returns on invested capital, with a ROIC of almost 81% for 2016 fiscal year's end.
Discounted Cash Flow Valuation
We decided to use a 3-stage FCFF model considering the firm's increasing market share and operating margin's growth. We estimated a 13% expected growth for the high growth stage, based on the firm's current capital efficiency. The transition stage will show a decreasing growth trend, arriving to a 2.45% growth in the stable phase. In addition, we assumed that the company will be able to keep paying an effective tax rate, lower than the marginal rate during the growth and transition phases.
Due to the firm's current life cycle stage, we decided to increase its maturity as time passes by. Exceed returns will consequently decrease, making reinvestment needs push up (it is not possible for a company to keep its reinvestment rate low and keep growing). By the terminal year, we will assume that the company is already a fully mature firm, keeping low but important exceed returns (ROIC > Cost of Capital by 0.86%). Let's face it, Domino's Pizza is a leader in the industry and has strong enough competitive advantages to keep the firm in a dominant market position. In addition to this, entry barriers for new competitors are strong and even the oldest firms will have barriers to dominate the market.
The cost of capital of the firm was computed with an 80-20% capital structure, a beta reflecting the risk of its only business (restaurants) and an equity risk premium based on the revenues that the firm earns locally and out of states. Thus, we arrived to a cost of equity of 6.31%, a cost of debt of 2.41% and a cost of capital of 5.49%. Cost of capital will decrease as the company reaches higher levels of maturity.
We sensitized the ROIC in perpetuity and the fundamental growth for the 3-stage phases. While we let Domino's Pizza earn 0.86% exceed returns in perpetuity and have a fundamental growth around 13%, we decided that the worst-case scenario for the franchise chain is to earn no exceed returns but without destroying value (ROIC=Cost of Capital), arriving to a value per share of $202.49. Additionally, we sensitized for an optimistic scenario letting the firm earn ~2% of exceed returns reflecting a value per share of $240.80.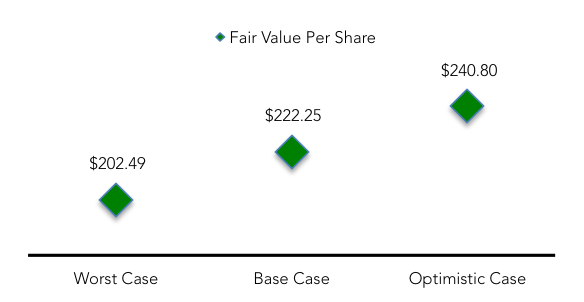 (Source: Author's Valuation Model)
Conclusion
It is palpable that Domino's Pizza is a great vertically integrated firm consolidated in the industry as a key player with its own food supply chain, great developed marketing channels, brand name, implausible sales growth and an increasing operating margin trend.
The company's debt profile is not an issue right now due to the bullish market where it develops. It is also important to notice the firm's repayment capacity through its repayment capacity ratios, Total Debt/EBITDA metric and current ratio.
Also, its investment efficiency and well treasury management make the firm able to return to stockholders big amounts of cash in the form of dividends and stock buybacks. However, this cash giveaway program cannot be held forever (the firm is giving away non-affordable cash). Additionally, the firm's capital efficiency has brought high return on invested capital, making great exceed returns for Domino's claimers.
We believe that Domino's has still some room to grow in the industry even though the company is already one of the biggest players. We expect the firm to maintain its competitive advantages, which are necessary to face strong competition from other mayor restaurant chains such as Pizza Hut and Papa John's (NASDAQ:PZZA).
In our DCF valuation we found Domino's Pizza undervalued, mainly because of its strong competitive advantages and efficient growth and sustainability. In this way, and basing us in the sensibility analysis, we arrived to a fair value for Domino's that ranges from $202.49 to $240.80 and a target price of $222.25/share.
Disclosure: I/we have no positions in any stocks mentioned, and no plans to initiate any positions within the next 72 hours.
I wrote this article myself, and it expresses my own opinions. I am not receiving compensation for it (other than from Seeking Alpha). I have no business relationship with any company whose stock is mentioned in this article.