This research report was produced by Colorado Wealth Management Fund with assistance from Big Dog Investments.
Target (TGT) just beat consensus estimates on earnings per share for the second quarter. The headline would read, "Smashes Puny Forecasts," but Target gave analysts advance notice that they would be beating the top end of their guidance range. Analysts took the opportunity to correct their forecasts so they wouldn't look like baboons for the second quarter in a row. Even after the forecasts were raised, Target still beat the higher number.
Updated guidance
In the second quarter earnings release, Target provided guidance for the third quarter and for fiscal year 2017. The headlines state that Target raised guidance, but that isn't entirely true. Target's guidance for 2017 was initially $3.80 to $4.20 for a midpoint of $4. They did not make adjustments after the first quarter, even though they probably should have. The new guidance is for $4.34 to $4.54 for a midpoint of $4.44.
Math
Perhaps a lesson in elementary math would be useful. Target revised their full year guidance to be higher by $0.44. In the first quarter, Target declared $1.21, compared to a forecast of $0.90. In the second quarter Target declared $1.23, compared to their initial forecast of $1.05. Combined, Target beat their first half estimates by $0.49. Since they only raised the full year guidance by $0.44, the official projections that would be tied to the second half are lower by $0.05.
Because the midpoint for full year guidance is $4.44 and earnings through the first half are $2.44, we can reasonably conclude that second half guidance is $2.00. Third quarter guidance was for a range of $0.75 to $0.95. The midpoint is $0.85. Therefore, the midpoint of fourth quarter guidance must be $1.15.
Predicting third quarter earnings beat
Below you will see a chart of Target's quarterly earnings per share and latest consensus forecasts: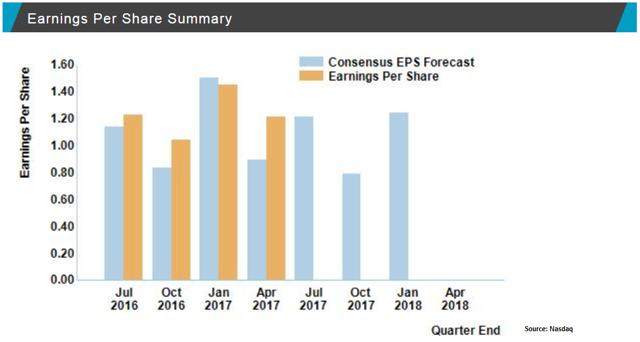 Earnings in the fourth quarter are regularly the strongest. Management's guidance was higher than the consensus for the third quarter but low for the fourth.
I am expecting Target to beat the midpoint of their forecasts for the third quarter. I believe Target was very conservative in their estimates because they did not want to risk under-performing. For the last two quarters, Target's performance dramatically exceeded management's initial forecasts. Despite officially raising the full year guidance, the third and fourth quarter combined guidance is slightly lower than before. It will be interesting to see if Target provides an update to analysts in about two months. By that time management should know that they are on pace to beat the forecast.
Lingering stupid narrative
The narrative on Target is for declining comparable sales, declining total revenue, and declining earnings. Those story lines should fail to play out. Comparable sales increased 1.3%. Digital sales drove 1.1% out of the 1.3%. For digital sales to have such a large impact, they had to grow by 32%. Recently, Target announced they would end their Cartwheel program. I believe this is positive for online sales because having two apps for Target was a weak strategy. Customers shopping through an app primarily care about convenience. Having two separate apps is the opposite of convenience.
Strong online sales growth combines with moderate physical store sales growth to challenge the narrative of customers not shopping at Target. As it stands, the consensus analyst forecast for 2018 remains exceptionally weak. The bigger boost for Target could be a result of analysts revising their forecasts for 2018.
Dividend
Target has a 4.56% dividend yield, which is very easily covered by earnings and cash flows. They also have about 50 consecutive years of dividend increases. Investors were concerned that earnings would crater to nothing in the span of a few years. Instead, the dividend champion is demolishing their own forecasts.
Conclusion
Target smashed forecasts in the first quarter and gave analysts fair warning that they were about to do it again. They increased full year guidance, but not really. For Target to merely hit $4.44 for the year would require weaker performance in quarter three and quarter four than management originally expected when they were preparing the weak guidance for 2017. They already decimated their expectations for the first two quarters. I believe it would have been wiser to raise full year forecasts to something in the $4.55 to $4.80 range. I remain heavily bullish on Target.
Click The Mortgage REIT Forum to sign up for:
Actionable buy and sell target prices
Best research on preferred shares and REITs
Best reviews on the site – 209/210 stars
Stable dividend yields over 7%
You get instant actionable SMS alerts
Sign up before September 1st, 2017 to lock in at $350/year
Disclosure: I am/we are long TGT.
I wrote this article myself, and it expresses my own opinions. I am not receiving compensation for it (other than from Seeking Alpha). I have no business relationship with any company whose stock is mentioned in this article.
Additional disclosure: No financial advice. Investors are expected to do their own due diligence and consult with a professional who knows their objectives and constraints. CWMF actively trades in preferred shares and may buy or sell anything in the sector without prior notice. Tipranks: Buy TGT.