In my last article on Colgate-Palmolive (CL) in February of this year, I made the argument that the company was a buy at a price of $65 due to the fact that an overreaction to lower sales meant that we could see a bounce back.
The stock went on to peak to above $75 before reverting to a level of $71.67 at the time of writing. In spite of the subsequent rise, reaction from other investors was more muted, with concerns including:
Lower sales have actually been a problem for several quarters.
Comparatively lower dividend yield of 2.24 percent compared to peers.
Lower valuation multiples available for stocks in this sector.
These concerns are somewhat justified. For instance, while free cash flow for the company continues to increase, its price to free cash flow continues to trade at near a five-year high: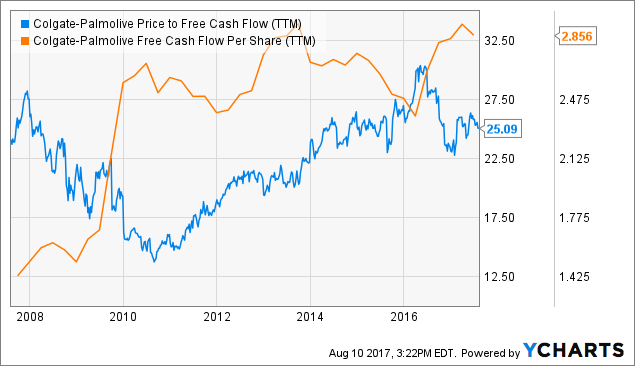 Moreover, when we look at the current dividend yield and payout ratio, we see that Colgate-Palmolive pays a lower dividend yield than its peers, while the payout ratio lies in the average:
| | | |
| --- | --- | --- |
| Ticker | Dividend Yield (%) | Payout Ratio (%) |
| Colgate-Palmolive ((NYSE:CL)) | 2.24 | 55.4 |
| Proctor & Gamble (PG) | 3.01 | 66.1 |
| Kimberly-Clark (KMB) | 3.21 | 62.4 |
| Clorox (CLX) | 2.49 | 59.4 |
| Johnson & Johnson (JNJ) | 2.51 | 46.8 |
Source: dividend.com
Getting back to sales performance, net sales in the second quarter also experienced a decline of 0.5% from the same quarter in 2016 to a level of $3,826 million. Apart from sales, things were not looking too positive on profit numbers either, with operating profit decreasing to $853 million in Q2 compared to $944 million in the same quarter last year.
The company cites slowdown in category growth in both the U.S. and Asia Pacific, as well as losses in market share for the company's U.S. based dish liquid business. While sales in emerging markets such as Latin America and Africa/Eurasia were up by 7% and 1%, respectively, sales in the major markets of United States, Europe and Asia Pacific were all down by a respective 3.5%, 3.5%, and 5%.
Although part of the decline in net sales may have macroeconomic-based reasons, the continuing slowdown in sales is not an encouraging sign. Beyond this, the company (at least compared to its peers) seems to be neither here nor there. Price growth has remained well below that experienced by competitors such as Johnson & Johnson in the past year, while dividend growth also remains particularly mediocre.
All in all, the stock is somewhat lacklustre. While it's no doubt a highly stable company, its performance on a dividend or growth basis remains below that of its peers, and in this regard one might do well going with one of its competitors.
Note: I personally am long Johnson & Johnson, and find this stock to have shown excellent performance in terms of both price and dividend growth. If you're interested in this company as a potential alternative, you can read my most recent article on the company here: "Johnson & Johnson: Wait For The Drop or Take The Shot?"
Disclosure: I am/we are long JNJ.
I wrote this article myself, and it expresses my own opinions. I am not receiving compensation for it (other than from Seeking Alpha). I have no business relationship with any company whose stock is mentioned in this article.