Please follow this link to read my previous articles about the stock.
Cheniere Energy (NYSE:LNG) will benefit from the US sanctions on Russia. Any pull back in stock price should be treated as a buying opportunity as the long-term growth prospects are improving and the company is on its way to grow earnings and cash flows. U.S sanctions on Russia will open doors for the U.S. natural gas to reach the European markets. Europe relies on Russian natural gas sources for one-third of its total demand. U.S. sanctions on Russia will affect this supply. As a result, U.S. LNG will find another market and exports will be enhanced considerably.
Cheniere's short-term issues should be ignored. As I have explained in my previous articles, the company will be operating at full capacity by the end of 2019. Cheniere shareholders should at least hold the stock for another three-five years. The second quarter loss was due to one-time charges which are not going to be repeated. Without these one-time charges, Cheniere would have reported a profit of $21 million. The company is still in the process of building capacity, which has resulted in considerable debt. Reshuffling this debt will result in some one-time charges. However, as the company starts to operate at full capacity, cash flows will jump. Revenues ($1.241 billion) and Adjusted EBITDA ($371 million) were on the rise. I will not go into the details of the earnings announcement. It can be read here.
A key development is the construction of its projects ahead of schedule. This is not something new for Cheniere as the company completed all three of its operational trains ahead of schedule. Early completion of the 4th train at Sabine Pass will result in higher cash flows as these trains are fully contracted. Fifth train will be completed in 2019 along with the two trains at Corpus Christi. Corpus Christi trains are 85% contracted. All of the counter parties are strong and major oil and gas companies (details can be found in my past articles about the company). Cheniere will start getting cash from these companies even if they do not load cargos. So, these projects will give regular cash flows to the company. Sabine Pass project will generate more than $2.8 billion annually once it is operating at full capacity. As Corpus Christi trains will be completed in 2019, we can expect a further addition to cash flows in 2019. By the of the year, four trains will be generating cash which will be used for remaining construction costs at Corpus Christi. This will decrease the dependence on external funding.
Cheniere has now shipped more than 160 cargoes from its Sabine Pass facility. As Cheniere's Sabine Pass is the only facility operating in the country, the company has a first-mover advantage and continues to benefit from the increased demand for U.S. LNG. A number of these cargos were on spot rates. The company is already working on getting long-term contracts from China and India. The image below shows the timeline of liquefaction capacity coming online. The image was taken from EIA.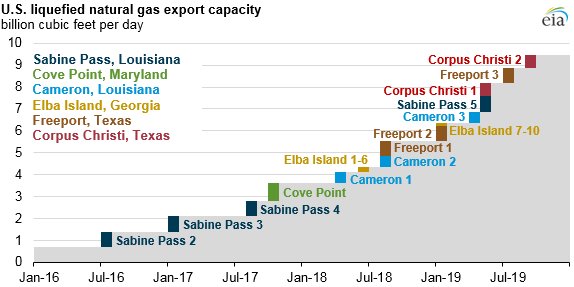 U.S. is expected to become a net exporter of natural gas this year. In three of the last four months, the country has been a net exporter. As the demand for U.S natural gas increases, companies like Cheniere Energy will benefit. Exports will also support the domestic market as prices will likely rise. Natural gas is also being exported to Mexico through pipelines. LNG is not the only source of export. However, as the above-mentioned projects come online, LNG will account for the bulk of annual natural gas exports.
By the end of 2019, Cheniere will most likely have cash flows in excess of $4 billion as the company will have both projects operating at full capacity. Corpus Christi is a smaller project with a total capacity of 9 mtpa (million tonnes per year), while Sabine Pass has the capacity of 22.5 mtpa. Most of these cash flows will be fee-based, which means that there is reasonable certainty about the cash flows. At current share count (232.5 million), Cheniere will have more than $17 per share in operating cash flows by the end of 2019. The current price of around $40 is extremely cheap and any pull backs should be a signal to buy. Cheniere Energy should be held for another 4-5 years at least.
Disclosure: I/we have no positions in any stocks mentioned, and no plans to initiate any positions within the next 72 hours.
I wrote this article myself, and it expresses my own opinions. I am not receiving compensation for it (other than from Seeking Alpha). I have no business relationship with any company whose stock is mentioned in this article.