BP (BP) cited operating cash flow of $6.9 billion for the second quarter before the gulf spill payments.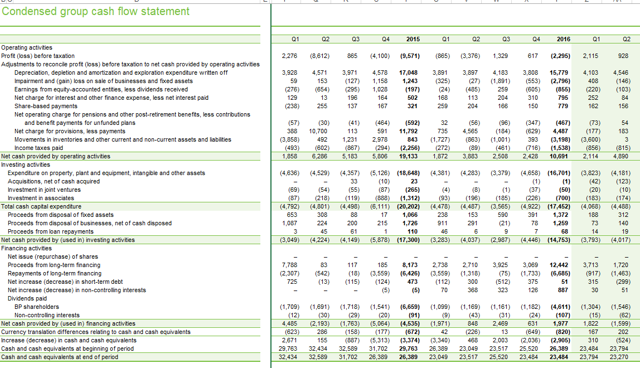 Source: BP F&Ol 2013-2017 Excel Spread Sheet, Second Quarter 2017
As shown above, cash flow (click on excel spreadsheet) has been holding up remarkably well despite the burden of the payments that resulted from the oil spill. Now those spill payments are projected to decline sharply in the future. Cash flow improved over the previous year. Now it looks likely to top $20 billion next year for the first time in a while. Nearly $2 billion of first half payments will be lower in the future.
Profits may be down, but management has lowered the breakeven cost to an oil cost of $47 per barrel. Management has shown every indication of lowering this cost further.
The market may worry that long-term debt has now climbed to about $56 million. But the strong cash position is more than a third of that debt. Whether using net debt or total long-term debt as part of the ratio along with cash flow, the cash flow can clearly handle the debt. Management has a long history of selling properties to reduce debt if management desires, so there is absolutely no reason to panic about the level of long-term debt.
Instead, the focus should be on that dividend. The dividend return alone is nearly equal to the amount of the average return that most investors make on stocks long term. Plus this company has a lot of future projects in the pipeline and is well diversified.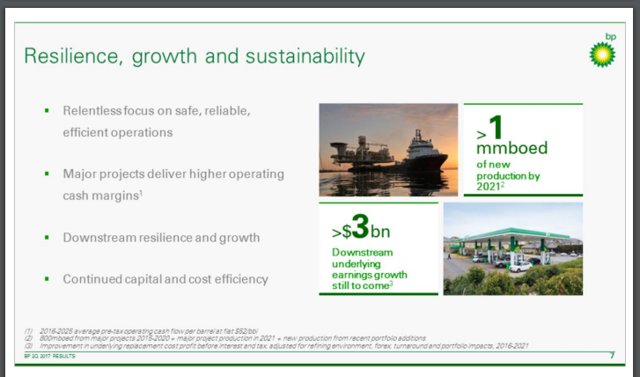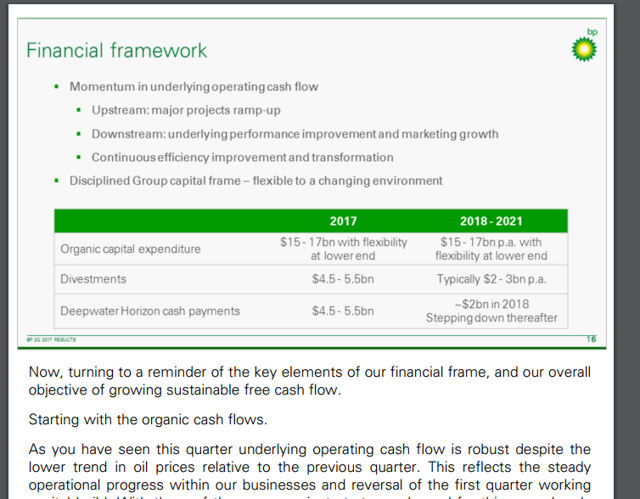 Source: BP Second Quarter 2017, Slides and Script
As shown above, the company has not really begun to sell any assets this year. Asset sales were really an insignificant contribution to cash flow in the first half. This evidently will change in the second half. But if there is a delay, the company has the credit lines and cash balance to handle that delay.
In the meantime, management is firmly focused on growth and increasing profitability. The cash payments for the oil spill will be about half as much next year and should become an insignificant hindrance soon. Management still appears to be very focused on employee safety. That needs to happen to prevent more headlines.
But there is plenty of cash flow left for the dividend, so it is not in danger. The market is slowly beginning to realize this as the stock is creeping upward. The combination of decreasing court ordered payments and lower breakeven should lead to gradual price appreciation. Of all the large oil companies, this one has the most potential return due to the recovery from the oil spill. Even with the latest appreciation over the last year or so, the stock will probably provide a comfortable 12% to 15% return as the memories and liabilities of the Horizon incident fade. Few companies of this size can reasonably provide that kind of low-risk annual return.
The major risk would be that the company management loses the safety focus. Then all bets are off and the stock would be best avoided. However, at the current time, that appears to be a very minimal risk.
Another risk would be that oil prices go far lower for longer than management anticipates, ushering in an era of losses. Right now, that appears unlikely, but oil prices are notoriously volatile. Still, this is one of the safer and higher yielding large oil companies should industry conditions become more hostile. Lower operating costs appear to be on the way. More than adequate credit and decent balance sheet strength give the company a lot of options. The stock of BP will probably do far better than a lot more speculative options (especially the ones that are leveraged to the hilt).
Disclaimer: I am not an investment advisor and this is not a recommendation to buy or sell a security. Investors are recommended to read all of the company's filings and press releases as well as do their own research to determine if the company fits their own investment objectives and risk portfolios.
Disclosure: I/we have no positions in any stocks mentioned, and no plans to initiate any positions within the next 72 hours.
I wrote this article myself, and it expresses my own opinions. I am not receiving compensation for it (other than from Seeking Alpha). I have no business relationship with any company whose stock is mentioned in this article.