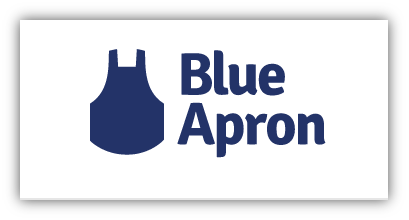 Quick Take
Meal kit commerce company Blue Apron (Pending:APRN) has publicly filed its S-1 registration statement to raise $100 million in an IPO.
The company is growing sales rapidly, though at the cost of dramatically increased marketing spend.
We don't know proposed share pricing or valuation, but I still think the company would do better as part of a larger retailing entity.
Company
New York-based Blue Apron was founded in 2012 to provide consumers with pre-packaged meal 'kits' that require 45 minutes or less to cook and are automatically delivered to the home.
With a subscription business model, the company offers weekly plan options for either two- or four-person kits and users can adjust meal preferences according to their taste and diet.
Management is headed by co-founders CEO Matt Salzberg, CTO Ilia Papas, and COO Matt Wadiak.
Blue Apron has raised close to $200 million in five private financing rounds from investors including Bessemer Venture Partners, Fidelity, First Round Capital, Stripes Group, and Peak Opportunity Partners.
Below is a brief overview video on Blue Apron's service:
(Source: Blue Apron)
Financials
Blue Apron's recent financial results can be summarized as follows:
Significant topline revenue increases, although at a decreasing rate
Uneven gross margin recently averaging in the 31% – 33% range
Large cash use in operations, ballooning in 1Q 2017 to $19 million
Below are the company's operational results for the past three and ¼ years (Audited GAAP for full years):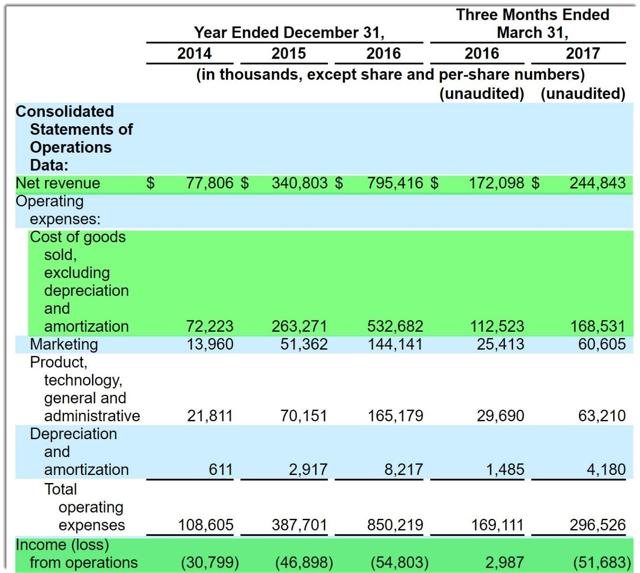 (Source: Blue Apron S-1)
Revenue
1Q 2017: $244.8 million, 42% increase vs. prior
2016: $795.4 million, 133% increase vs. prior
2015: $340.8 million, 338% increase vs. prior
2014: $77.8 million
Gross Margin
1Q 2017: 31%
2016: 33%
2015: 22.7%
2014: 7.2%
Cash Flow from Operations
1Q 2017: $19 million cash used in operations
2016: $23.5 million cash used in operations
2015: $26.4 million cash used in operations
2014: $16.9 million cash used in operations
As of March 31, 2017, the company had $61.2 million in cash and $289.7 million in total liabilities, not including deferred revenue. (Unaudited)
IPO Details
Blue Apron intends to raise $100 million in gross proceeds from an IPO of its Class A common stock, although that figure may be a placeholder.
It also intends to have a multiple share class structure, with the founders and existing major shareholders retaining Class B and Class C shares for voting control.
APRN says it will use the net proceeds from the IPO as follows:
We intend to use a portion of the net proceeds of this offering to repay indebtedness outstanding under our revolving credit facility.

Listed managers of the IPO include Goldman Sachs, Morgan Stanley, Citigroup, and Barclays.
Commentary
With its initial S-1 filing, Blue Apron has provided historical financial information but hasn't given us any details on the expected per share price range or its proposed post-IPO valuation.
The company's revenue run rate continues to grow smartly and is on track to reach $1 billion in 2017 based 1Q's performance, but is growing at a decreasing rate when compared to previous years.
Additionally, Marketing spend is dramatically increasing, leading me to conclude management is 'buying' that sales growth to a degree.
Management is burning through cash to fund that growth; based on 1Q 2017 numbers, it will use $76 million in operating cash in 2017 alone.
I originally wrote about Blue Apron's prospects in my article, Blue Apron Prepares For IPO But May Be Takeover Bait.
In that article, I highlighted a potential U.S. market size of $22 billion and the company's competition, which also includes Sun Basket in the organic and specialty meal delivery space.
I also stated the Blue Apron may be a takeover target by one of the major retailers such as Amazon (NASDAQ:AMZN) or Walmart (NYSE:WMT) if the price is right.
Speaking of pricing, Blue Apron's current private market valuation remains at around $2 billion, according to the most recent marks by investor Fidelity:

(Source: WSJ)
Given the generally favorable environment for tech IPOs in recent months, I would expect Blue Apron to continue its IPO process, but would likely require a premium over that $2 billion valuation from any buyer.
Considering how much the company has to spend on marketing to get sales lift, I'm inclined to believe it would do better as a division of a larger entity such as an ecommerce/grocery delivery operation, where it can develop synergies with the grocery side of the business without the high marketing spend.
We don't know management's proposed valuation, so I can't offer a final opinion, but I still think Blue Apron is an M&A target for the right acquirer that can provide it distribution and related synergies.
I write about M&A deals and IPOs. Click the Follow button next to my name at the top or bottom of this article if you want to receive future articles automatically.
Disclosure: I/we have no positions in any stocks mentioned, and no plans to initiate any positions within the next 72 hours.
I wrote this article myself, and it expresses my own opinions. I am not receiving compensation for it (other than from Seeking Alpha). I have no business relationship with any company whose stock is mentioned in this article.