A few months ago, I found Apple's (NASDAQ:AAPL) decision to partially upgrade the iPhone SE as rather odd. The company went from offering 16GB/64GB storage models to 32GB/128GB storage, but did not change anything else involved in the phone. This would seem to imply Apple is still interested in accessing lower price tiers in the smartphone market, yet the next iPhone release is expected to see the most expensive iPhone ever. Could Apple be using the SE to eventually make a leap towards new markets?
Between the price raise seen in the iPhone 7 Plus as well as all the new features expected in the "8" (rumored name) coming later this year, I have long wondered if we will see the phone break the $1,000 price point. In the table below, Goldman Sachs analysts think this is a definite possibility, especially given higher amounts of storage than current base iPhone models.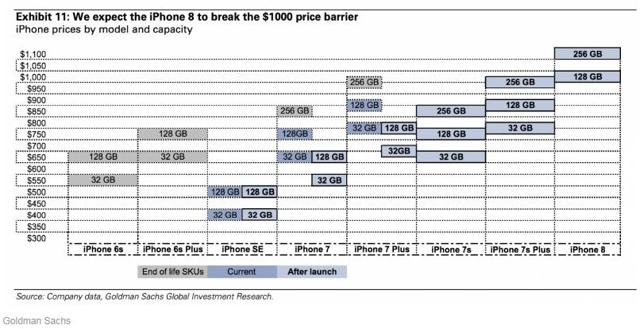 (Source: Goldman Sachs via Business Insider)
Currently, Apple has a very wide price point on phones. If you can find any of the 16GB SE models left, they go for $349 in the US, while the top of the line 7 Plus models go for $969. As the chart below shows, the iPhone SE is still substantially more expensive than the average smartphone price in every region except North America, and that's the only region where prices have gone up in the last couple of years.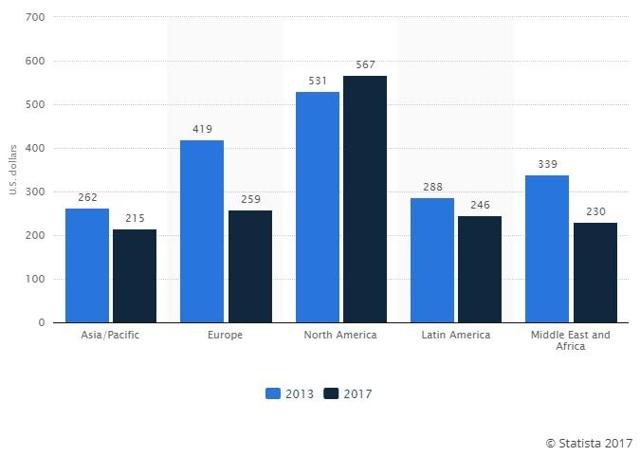 (Source: Statista)
As I mentioned above, the only thing that changed for the SE this year was storage. The rest of the hardware is still the same as when the phone launched in Spring 2016, so it is a bit outdated. There are certainly things that could have been upgraded, like the A9 chipset, the 1.84 GHz CPU, and the 1.2 megapixel secondary camera. Perhaps Apple could have even gone to some of the items found in the 7 Plus, like 3 GB of RAM, the much better quad-core CPU, or the 7 megapixel secondary camera.
By the time this year's iPhone launches, the hardware currently in the 7 line will be outdated enough that Apple could potentially put some of it in the SE and still make a decent margin starting at $399. As a fan of the smaller screen, I'd certainly like to see a second edition SE model with upgraded specs. However, I don't think Apple should stop there. Why not include some of the 7's tech to launch an SE phone aimed at certain markets for $299, although not necessarily all of it if you are margin concerned.
Apple wouldn't likely be selling this phone in enough volumes where it would tremendously impact overall gross margins. Even 10 million units annually is another $3 billion in revenue, but still would be less of 5% of yearly iPhone unit sales. Additionally, this phone could be aimed at consumers that either can't afford a top of the line iPhone, or aren't ready to jump to the Apple brand just yet. By going with a phone at this price point, Apple would hope that by the time these consumers need their next phone, they'd be ready to go with a more expensive model.
During this time, Apple introduces these consumers to the ecosystem, where it can generate meaningful service revenues from items like Apple Music, Apple Pay, etc. Eventually, if Apple wants to increase its overall market share, it is going to have to move down the price ladder. While the firm continues to dominate profits in the high end, it's still just a fraction of the overall smartphone market, and you can't count on global economies always growing. The next major recession will likely have a big impact on the smartphone sector.
For investors, a move later this year towards a cheaper smartphone may not seem like a major thing. All eyes are expected to be on the iPhone 8 super cycle, which will see unit sales in the hundreds of millions over time. But moving down the ladder, perhaps with a repackaged SE, not only brings in more revenue, but gets more consumers into the Apple ecosystem. Testing the waters now could set up a major move later on. Right now, Apple shares have lost almost 10% from their all-time high, so if you do believe in the company's future smartphone prospects, now might be a decent time to look at shares.
Disclosure: I/we have no positions in any stocks mentioned, and no plans to initiate any positions within the next 72 hours.
I wrote this article myself, and it expresses my own opinions. I am not receiving compensation for it (other than from Seeking Alpha). I have no business relationship with any company whose stock is mentioned in this article.
Additional disclosure: Investors are always reminded that before making any investment, you should do your own proper due diligence on any name directly or indirectly mentioned in this article. Investors should also consider seeking advice from a broker or financial adviser before making any investment decisions. Any material in this article should be considered general information, and not relied on as a formal investment recommendation.