Capitulation is when investors give up any previous gains in stock price by selling equities, in an effort to get out of the market and into less risky investments. True capitulation involves extremely high volume and sharp declines, and is usually indicated by panic-selling. The term is derived from a military term which refers to surrender. – Investopedia
We haven't seen much capitulation in this market, which keeps setting and then re-setting and then re-re-setting all-time highs.
Indeed, Robert Shiller, the Nobel Prize-winning economist who had been warning for years that Wall Street was overheated, recently said it's quite conceivable that stock prices could go up another 50%.
Which brings us to a lesser-used market term: "Upside Capitulation."
This occurs when investors who had been very cautious realize the rally has gone on without them and they decide to get some of their cash working.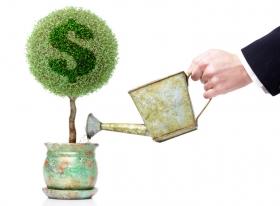 Although the market is so hot-hot-hot that it seems EVERYBODY is buying stocks, the fact is that many retail investors felt they were burned by either the dot-com crash or the Great Recession (or both!) and have stayed away.
As an example of investors' distrust for Mr. Market, a survey published July 19 by Bankrate asked: "Which would be the best way to invest money you wouldn't need for more than 10 years?" The stock market finished in a tie for third place, well behind real estate and even cash.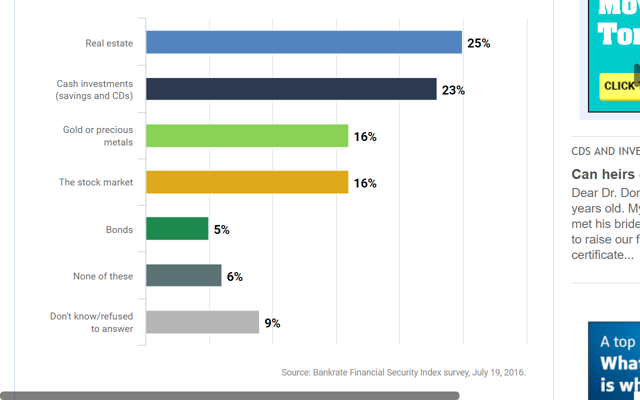 That's right: Nearly a quarter of respondents to that survey said cash was the best way to invest for the long term! Then again, the typical American has only about $5,000 put away – total, including not just cash but all kinds of investments.
We're Special!
Thankfully, the average Seeking Alpha reader is far more informed about investing than the typical American, far more willing to do what it takes to secure his or her financial future. We Alphites know we almost surely will not achieve our goals if we sit in cash for a decade or more.
Although I am close to fully invested, about 7% of my portfolio is in "investable cash." (That's my term for money that has not been set aside for emergencies or for anticipated near-term expenditures.) I am not necessarily waiting for the next recession, but I am a value-conscious Dividend Growth Investing practitioner who simply hates paying premium prices even for the high-quality companies I want in my portfolio.
"I'll wait until XYZ pulls back to $XX," I had been saying.
One problem: XYZ didn't pull back. As the bull romped ahead for a seventh, eighth, and now, ninth year, XYZ's price has moved higher, ever higher, occasionally leaving me with "passer's remorse."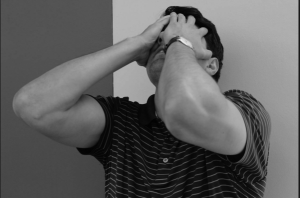 Well, the upside capitulator in me decided to hit the buy button on six companies. They are among the leaders in their industries. Most are brand names that even kids would recognize. And, all have impressive histories of growing dividends year after year.
A couple of the companies experienced recent pullbacks but still weren't bargains; others just kept charging ahead like the bull market itself. In both cases, I simply got tired of waiting for them to hit my buy zones.
Additionally, my recent sale of Avista (AVA), which is being taken over by another utility, gave my portfolio a solid cash infusion because my AVA investment had doubled. Using that dough for a few new purchases felt almost like playing with "house money."
My 'Upside Capitulation' Six-Pack
Costco (COST). Yes, finally. Those who have read many of my articles and comments know that I love shopping at Costco and that I am a big admirer of the company's business model. Despite that love and admiration, I had only a tiny position (a few shares bought 2 1/2 years ago as part of an experiment). Why? Because COST was almost always "too expensive." Well, it seemed silly for me to like a company as much as I like Costco without being a shareholder. If it's going to continue soaring to the stars, I'm going along for the ride!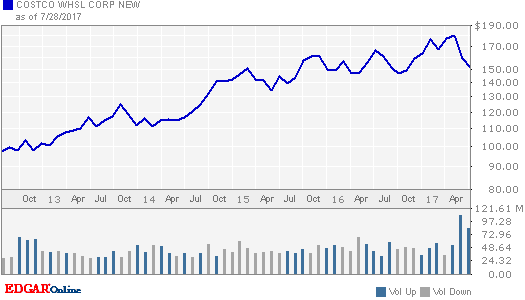 After I stocked up on Costco last month in two tranches (at $170 and $159), it pulled back into the low-$150s after Amazon (AMZN) announced an agreement to buy Whole Foods (WFM) – a sign that the e-commerce giant was serious about groceries. I view that as short-term noise and believe Costco is positioned extremely well to compete with Amazon. If COST happens to go still lower, I will buy even more.
Honeywell (HON). Back in 2015, fellow contributor Adam Aloisi chose this industrial conglomerate as The No. 1 Stock In The World. His bullish case, articulated in an article a few days after that series, led me to look into Honeywell more… and I liked what I saw. But me being me, I had to get it not just at a good price but at the perfect price. So, I repeatedly missed it as it kept climbing out of my reach. Enough! My AVA sale money pushed me into action, and I bought some last week at $136.
Jefferson Research uses "Financial Sonar" to assess the strength of companies in several categories. Below is a screenshot of its Honeywell page. Note that the company not only scores STRONGEST throughout for the most recent period, but that it also has earned those ratings in each of the last four quarters. I love that quality and that consistency!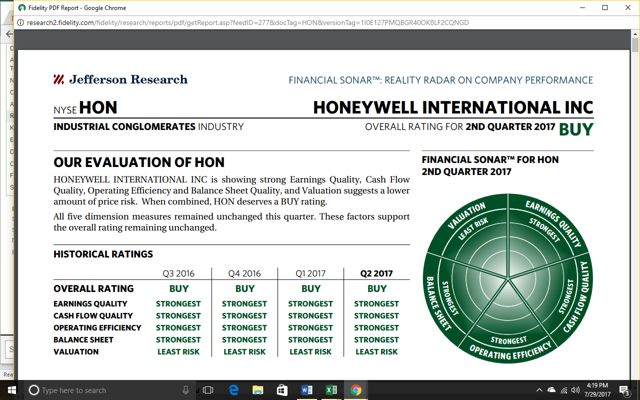 Hormel (HRL). I had been considering this maker of Spam and other meat products ever since I saw it on a Value Line list of "Highest Growth Stocks" last year. The list included 100 companies – making it exclusive enough – but Hormel also was one of only eight to receive Value Line's highest "Safety" score. And, of course, Hormel is a Dividend King, with 50-plus consecutive years of dividend increases.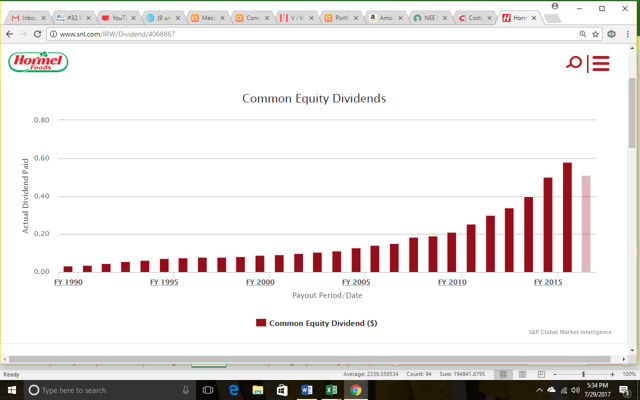 In addition, Ian Bezek selected Hormel last spring for my most recent collaborative effort. When HRL's price fell below the 2% yield mark of $34 a couple months ago, I decided to buy.
NextEra Energy (NEE). This Florida-based utility is the world's largest generator of renewable energy from the wind and sun. It was the No. 1 utility on Fortune's 2017 list of "World's Most Admired Companies," and it has received awards for ethics and compliance. The environmentalist in me likes all of that, and the investor in me likes the way NextEra has grown earnings and dividends. Having sold AVA, I wanted another quality ute, so I nabbed NEE last week at $144.
While most utilities grow dividends only a few percent annually, NEE has had 9%-plus increases in six of the last seven years, most recently 12.9%. With 23 consecutive years of dividend raises, NEE is nearing Aristocrat status. And, with a sub-50% payout ratio, there is plenty of room for future hikes. As a bonus, Florida is among the fastest growing states in the country, so the company's business figures to flourish for decades to come.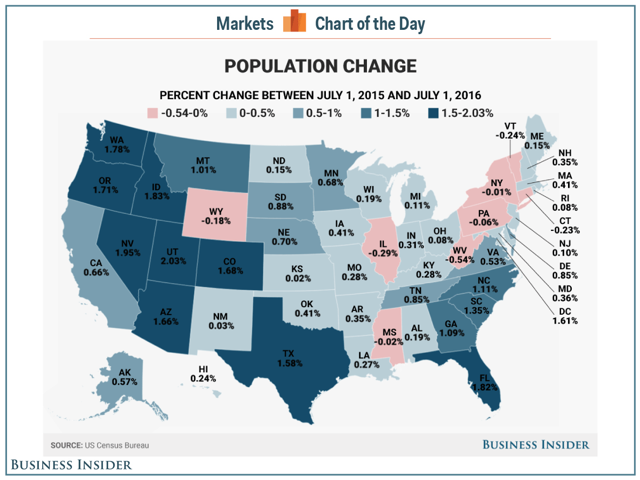 PepsiCo (PEP). I already owned a pretty big chunk of Pepsi, having bought most of my stake in February 2014 at about $79. I decided in May to "promote" PEP and make it my 14th core position, so I added some at $112 to bring its size more in line with the other 13. I am not nearly as bearish on the soft drink industry as some are, and I am very bullish on the salty-snack division that sets Pepsi apart from its peers.

Visa (V). As is the case with some others on my list of recent buys, not many analysts believe this credit card giant is attractively valued right now. Morningstar's Jim Sinegal begs to differ, as this screenshot from the site shows: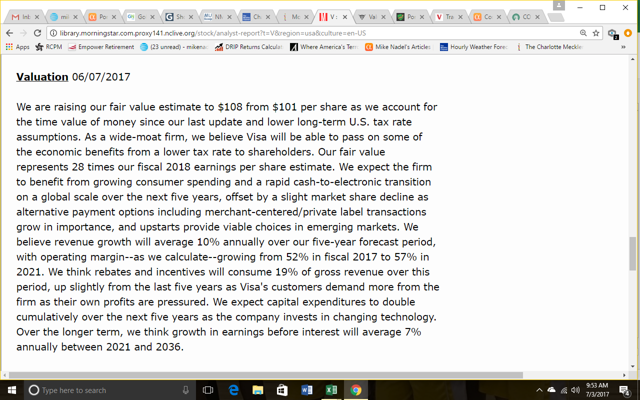 Even if Morningstar hadn't upped its Visa valuation to $108, I still would have made the purchase last week at $99 with some of my AVA-sale windfall. Visa was no bargain last year when my daughter bought it at $78.51, and it wasn't considered a great deal in December 2014 when I bought it for the Dividend Growth 50 at a split-adjusted $64.46. Both proved to be pretty nice buys, no?
Valuation Station
So, should you be a fellow upside capitulator and buy any of these stocks now? I can't answer that because I don't know your goals, age, financial status, portfolio components, risk tolerance, etc.
Here are some valuation-related statistics on each company:
| | | | | | | |
| --- | --- | --- | --- | --- | --- | --- |
| COMPANY | PRICE | P/E | FWD P/E | 5YR P/E | MORN | CFRA |
| COST | $152.89 | 26.5 | 23.7 | 27.3 | $159 | $191 |
| HON | $136.79 | 21.2 | 17.6 | 18.7 | $130 | $157 |
| HRL | $34.15 | 20.8 | 19.0 | 22.5 | $34.50 | $35 |
| NEE | $145.12 | 16.6 | 20.2 | 16.0 | $130 | $146 |
| PEP | $116.61 | 24.7 | 21.0 | 22.5 | $117 | $134 |
| V | $99.15 | 36.9 | 25.0 | 31.4 | $108 | $100 |
(Key: PRICE is at market close on Friday, July 28; P/E is trailing 12-month price/earnings ratio; FWD P/E is based on the coming year's projected earnings; 5YR P/E is five-year historical average P/E; MORN is Morningstar's Fair Value Estimate; CFRA is CFRA's 12-Month Target Price.)
Observations and Notes:
COST and HRL have P/Es lower than their five-year averages.
Every company, except NEE, has a forward P/E lower than its five-year average.
COST, HRL, PEP, and V are trading at discounts to Morningstar's FVE.
CFRA (formerly S&P Capital IQ) forecasts a 25% upside over the next 12 months for COST, 15% for HON, and 15% for PEP, while it expects HRL, NEE, and V to be flat.
Most of these are not companies for investors looking primarily for current income. Dividend Yields: PEP 2.8%; NEE 2.7%; HRL 2.0%; HON 1.9%; COST 1.3%; V 0.7%.
Conclusion
Aside from Pepsi, each company I recently bought makes up less than 1% of my portfolio. I plan to grow the positions over time with occasional buys, reinvesting dividends along the way.
Although one could argue that most (if not all) of them are "overvalued," one could have made that same argument 3 or 5 or 10 years ago. Yet, they have done superbly, both from total return and dividend growth standpoints.
Even Hormel, which has pulled back more than 20% over the last 16 months, has nearly doubled the performance of the S&P 500 Index over the past five years and more than tripled it over the last 10 years.
That's a lot of Spam, my friends!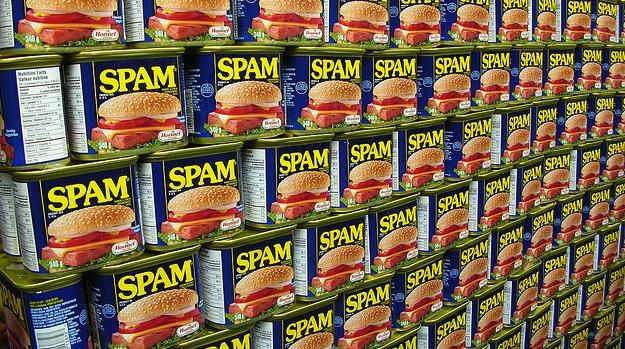 But come on! It's Year 9 of one of the longest-running bulls ever. Shouldn't I be socking away cash rather than paying premium prices even for high-quality companies? Is this really the time for upside capitulation?
Well, although I actually do have a little money put aside, I refuse to set up some kind of "cash bunker" for a cataclysmic correction that might still be years away.
As I pondered my latest purchases, I kept coming back to one very wise man's memorable words …

Disclosure: I am/we are long COST, HON, HRL, NEE, PEP, V.
I wrote this article myself, and it expresses my own opinions. I am not receiving compensation for it (other than from Seeking Alpha). I have no business relationship with any company whose stock is mentioned in this article.