Subscribers to "Engineered Income Investing" got an early look at this material. Readers can learn more about this income boosting service from this Seeking Alpha Marketplace link.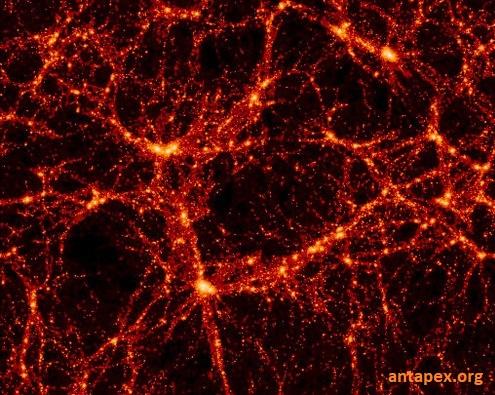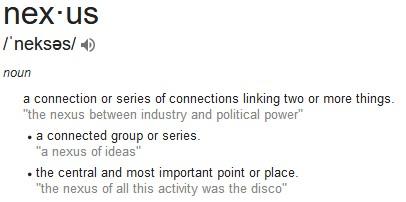 You are looking at an image of the large scale structure of the universe. Each bright blob is a super-giant cluster of galaxies. Here, the entire matter and energy of the universe concentrates into tiny volumes at each nexus of this web of matter-energy that arose from the quantum fluctuations at the birth of time and space. There is nothing more powerful than a nexus. It dominates and connects disparate parts of the network, be it the structure of the universe, or the traditional and e-commerce fabric of our global economy.
Today, I will present a company at the nexus of the battle field for emerging dominance of retail in the coming decades. Positioned astraddle of both worlds, W.W. Grainger, Inc. (GWW) is in a position to become a special situation, as companies, both large and small, on both sides of the physical, and internet retail spaces seek the nexus linking both.
Quick Summary:
My thesis is simple. We are currently in the early stages of the battle for dominance of retail as it goes through a paradigm shift in the way consumers and retailers interact. Some see e-commerce as already on the winning path. Others proclaim that traditional retailing will not go gently into the dark night. My view is that both spaces are needed. Consumers still like to touch and feel. The psychology of the modern now generation does not want to wait 6 weeks, or 2 weeks, or 2 days for delivery. We want it now!
Both sides know this. It is why Amazon (NASDAQ:AMZN) is moving into acquisitions extending itself into traditional physical distribution and local stores. It is why Wal-Mart (NYSE:WMT) is investing heavily to build out its e-commerce presence. Successful retailers must be in both spaces. There simply is no other option.
A Deeper Look:
I call the points that link these two spaces, the nexus. Grainger is a company with a long and successful history of traditional business-to-business retail. It is also one that is successfully growing its e-commerce side, seeing continued modest growth in its traditional retail space while obtaining rapid growth to its e-commerce presence also. Recent Seeking Alpha articles by Aleksander Vichev and Fiscal Voyage present the financial highlights documenting these facts. There is no need for me to duplicate that here. In short, Grainger has found a successful niche in the nexus, for its own products and services, for affiliates, and for partners.
A proven position at the nexus makes Grainger a potential special situation to become a takeover target by e-commerce retailers looking to rapidly expand their presence in traditional bricks and sticks. It is a target of traditional retailers looking to rapidly build presence in the e-commerce space. It is also a portal for affiliates and partners to hire it to represent their products alongside its own.
So, does a special situation with a growing successful dividend aristocrat at the focus for takeover by giants on either side of the retail battleground interest you. Add in that it comes with a fallback as an emerging portal for all those small to midsize enterprises needing a pathway through the nexus. In some ways, this makes Grainger a more interesting play than the highly followed Amazon or Wal-Mart in these developing battles.
GWW brings a lot to the table to attract these busy bees of the new retail paradigm. It has higher margins than the giant contenders on each side of the nexus, handily beating both Amazon and Wal-Mart in this important metric.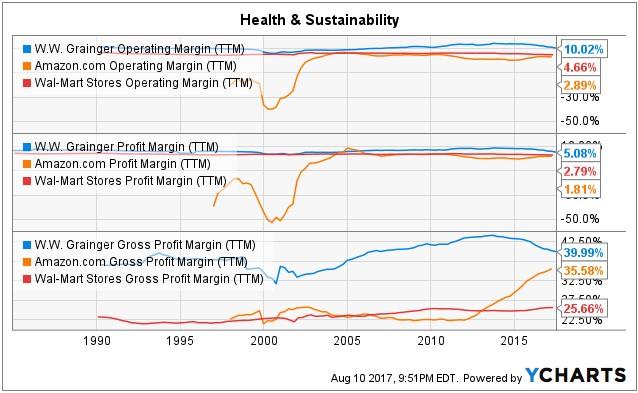 This alone justifies a heavy premium for acquiring GWW. It provides a way to leverage its own higher margin models into the huge revenue streams of the giants. That translates to paying 50% and 100% and 200% premiums for Grainger as trivial. Much of the current retail battle is being waged with margin-slashing swords. GWW is wielding this weapon too in order to hold onto traditional customers and advance its penetration into e-commerce. Nonetheless, it remains at higher margins and growing revenues and free cash flow per share.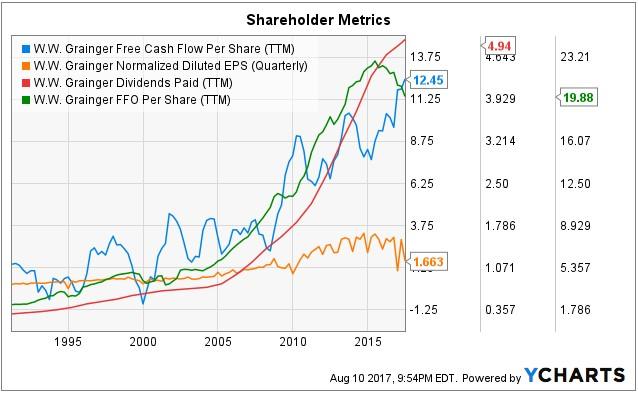 The sooner a retail giant makes its play for Grainger, the more powerful margins that suitor will have available to leverage and the less that the giant will need to continue margin slashing of its own as its main competitive tool. Thus, Grainger offers the double reward of premium margins and an incentive to pay premiums to access them sooner, rather than later. Its position in the nexus, and growing in the spaces on both sides, gives it credible mass and power. All this comes packaged in a solid company that will contribute net cash flows from day one.
Should the giants on both sides of the nexus choose to pass Grainger by, it still remains a special situation for rapid growth as the nexus contender to provide almost limitless small and mid-sized retailers portal access across the nexus.
There are risks to be sure. After all, it is retail space we are talking about. We are discussing it because it is in a state of change and a battle ground. However, Grainger has yet another fallback. It is a Dividend Aristocrat with a very long history of dividends , divided growth, and safe dividend coverage ratios to carry it forward. Even the current cautionary article by All American Investor concludes as a current buyer for the shares.
Fair Value Appraisal:
A fair value Analysis and Appraisal for GWW shows its market price historically and currently is very strongly correlated to the P/E ratio. The historical long-term median ratio of 20.5 does an excellent job of calculating a theoretical fair value price is in strong agreement with actual market prices. Based on the current forward P/E outlook, shares currently trading at $165.40 are very near appraised Fair Value of $160.70. A special situation premium of 25% to 100% is reasonable for an expectation over the next 12 to 24 months.
Shorter-term strategies using covered option writing are available to generate annualized yield rates of 11.55% to 13.03% over the next one to two months (these are available to my service subscribers. I will also make them available to those who message me with a request of a complimentary copy and provide their email address to send the report to).
Conclusion:
W.W. Grainger, Inc. is a rock solid B2B retailer, a long-term Dividend Aristocrat, that is successfully maneuvering on the battlefield of the current retail wars. It is at fair value currently and positioned to be a special situation able to command a very large premium price. The downside leaves investors with a superior and safe dividend purchased at fair value and the opportunity to generate superior yields locked in at 11.55% to 13.03% for the next 2 months.
There is no evidence that Grainger is on anyone's takeover radar at this time. After the release of this article, there should be many investment banking teams burning the late midnight oil.
Thank you for taking the time to read this analysis. I welcome your comments and questions. If you find this article thought provoking, please consider becoming a follower by scrolling back to the top and clicking the orange "Follow" link next to my name. This ensures you are notified of all my work as it is published and gives me feedback to know what readers find of interest.
Those of you interested in income focused on value-based investing, using high-quality dividend income equities with covered option writing to boost immediate cash and yield while reducing (but never totally eliminating) market risk, I offer through Seeking Alpha my private premium research service, Engineered Income Investing. If you'd like a complimentary copy of a few of my recent research reports, including the full (EII ONLY) version of this report, where I provide specific current trading strategies and pricing to consider for Grainger today, send me a private message with your email address and a topic of "EII GWW offer."
I am not a licensed securities dealer or advisor. The views here are solely my own and should not be considered or used for investment advice. As always, individuals should determine the suitability for their own situation and perform their own due diligence before making any investment.
Disclosure: I am/we are long GWW.
I wrote this article myself, and it expresses my own opinions. I am not receiving compensation for it (other than from Seeking Alpha). I have no business relationship with any company whose stock is mentioned in this article.