PayPal (PYPL) is making all kinds of alliances with other players in the payments sector, including both financial services firms and technology corporations. Some investors are feeling concerned about this strategy, since it generally means that PayPal needs to accept lower profit margins on each payment transactions.
However, the long term-growth story in PayPal looks stronger than ever, and recent financial reports confirm that the business is firing on all cylinders.
Making friends with the big guys
Digital payments is a booming industry, and competitive pressure is aggressively increasing in the sector over the past few years. In this kind of context, a company has basically two main strategies it can pursue: Fighting the competition as fiercely as possible or looking to make mutually beneficial alliances with strong players.

PayPal is choosing to play nice with the big operators in the sector. The company made 22 strategic partnerships since early 2016, joining forces with tech players such as Apple (AAPL), Samsung (OTC:SSNLF), Facebook (FB), and Google (GOOG) (NASDAQ:GOOGL), as well as card processors like Visa (V) and MasterCard (MA). Similarly, the company is also building alliances with the big banks, including names such as Wells Fargo (WFC), JP Morgan (JPM), and Bank of America (BAC).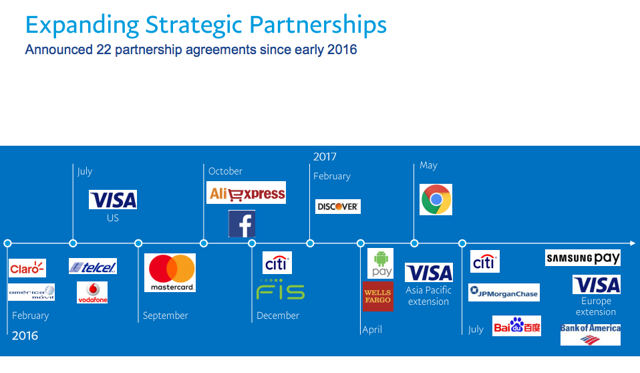 Image source: PayPal
The complete financial details of these agreements are not disclosed, but everything indicates that PayPal is making lower margins per transaction under these alliances. PayPal's evolving relationship with Visa and MasterCard can provide some insights about how these agreements work.
Card companies charge substantial processing fees on payment transactions, so PayPal used to encourage its customers to link their PayPal accounts directly to their bank accounts via ACH as opposed to credit cards in order to avoid those fees.
Under the new agreements, PayPal has promised to make it as easy as possible for customers to choose either bank accounts or Visa and MasterCard accounts. In exchange, PayPal will now be more easily accessible in mobile wallets using Visa or MasterCard networks.
In a nutshell, PayPal is making smaller profits on every transaction via accounts linked to Visa or MasterCard, but the company will also gain more exposure to mobile payments by joining forces with two tremendously powerful brands in the sector.
Looking at the big picture
PayPal's business model is quite attractive. Most of the company's costs are related to the infrastructure necessary to process transactions, and a high proportion of expenses are fixed. As revenue grows over time, PayPal spreads fixed costs on an bigger revenue base, which generates expanding profit margins on sales.
The company reported a vigorous increase of 20% in constant-currency revenue during the second quarter of 2017, to $3.14 billion. Transaction expenses increased 31%, putting some downward pressure on profit margins. On the other hand, this was more than offset by positive margin contribution from leveraging other expenses.
At the end of the day, PayPal delivered an increase of 110 basis points in adjusted operating margin during the quarter, reaching 21% of revenue. This shows that the company can still generate expanding profitability in spite of growing volume-based expenses.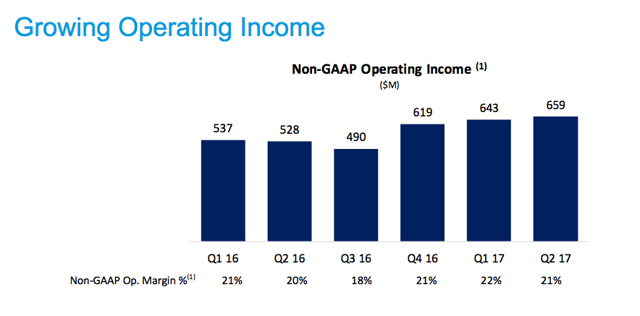 Image source: PayPal
PayPal is also doing a sound job in key areas such as user growth and engagement. The company ended the last quarter with 210 million active accounts, adding 6.5 million new accounts during the period. This was the largest organic increase in users over the past three years, so the business is clearly gaining momentum.
PayPal processed 1.8 billion transactions during the quarter, growing 23% year-over-year. Transactions per active account increased 10% versus the second quarter of 2016. Growing engagement has positive implications in terms of sales and profits, and it also means that the platform is providing a valuable and appreciated service to customers.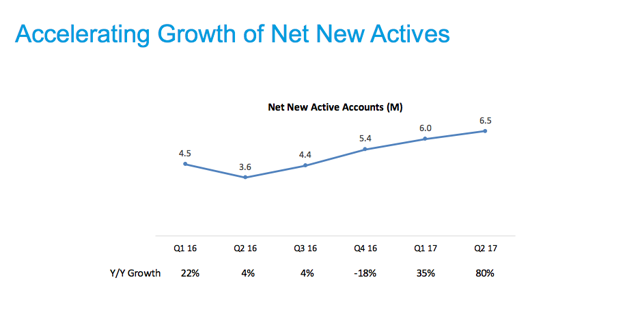 Image source: PayPal
Importantly, PayPal still has enormous room for growth. According to management, approximately 85% of all commerce transactions around the world are still made in cash, and the total addressable market for PayPal over the long term is worth nearly $100 trillion.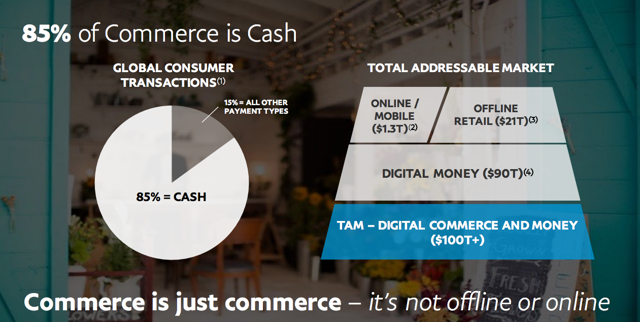 Image source: PayPal
Considering the gargantuan size of the market opportunity, it makes sense for PayPal to focus on strategic positioning by building alliances for growth over the years and decades ahead.
Bottom line
By partnering with all kinds of players, both in technology and in financial services, PayPal is leaving some money on the table when it comes to profit margins per transaction. However, the business model allows for expanding margins as revenue grows over the years, and recent financial reports show that the business keeps performing remarkably well across the board.
Even more important, the long-term market opportunity for PayPal is gigantic, so management is doing the smart thing by prioritizing long-term growth over short-term margins.
Disclosure: I am/we are long AAPL, GOOG, MA, GOOGL, BAC.
I wrote this article myself, and it expresses my own opinions. I am not receiving compensation for it (other than from Seeking Alpha). I have no business relationship with any company whose stock is mentioned in this article.